South West England
Jurassic Coast and Cornish Tin Mines
Bath to Bath*
12 - 19 July, 2018
£1100
4 - 11 April, 2019
£1155
Includes 4 World Heritage Sites, 2 National Parks and 1 Geopark
Exclusive small group tour, number of participants : 4 - 6
Prices are per person, based on 2 people sharing a room. Single supplement applies please make contact for details.
*Bath can be easily reached by train or coach from both London Heathrow (LHR) and London Gatwick (LGW) airports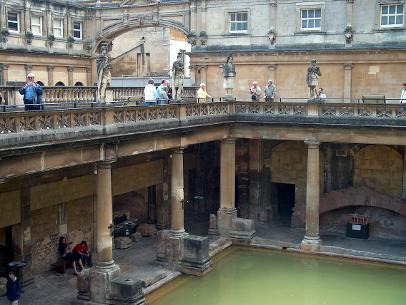 City of Bath World Heritage Site, Britain's best known geothermal site.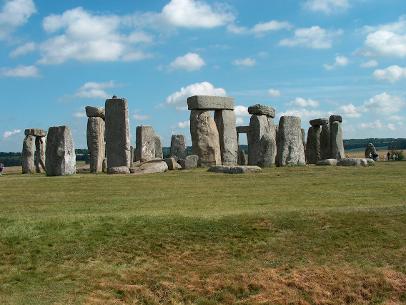 Stonehenge World Heritage Site, made up bluestones, Ordovician dolerite, rhyolite and volcanic and calcaerous ash.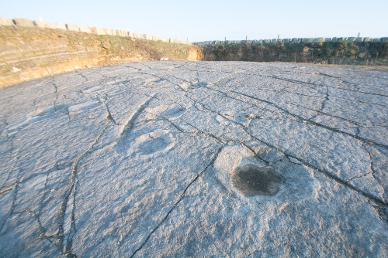 Sauropod dinosaur track-way at secret location on the Isle of Purbeck, Jurassic Coast World Heritage Site.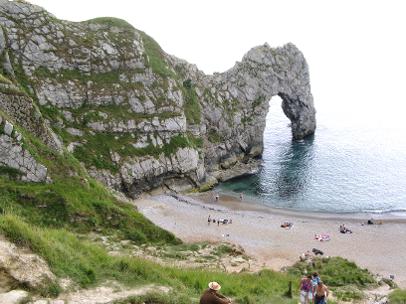 Durdle Door, Jurassic CoastWorld Heritage Site
Chesil Beach viewed from the Isle of Portland, Jurassic Coast World Heritage Site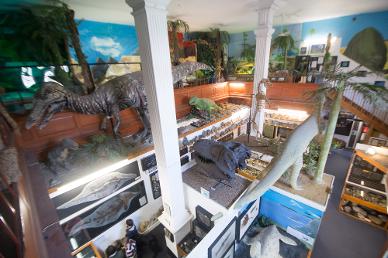 Dinosaur Land Fossil Museum, Lyme Regis, Jurassic Coast World Heritage Site.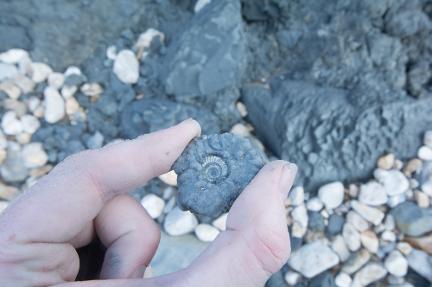 A nice little ammonite just found a Charmouth, Jurassic Coast World Heritage Site.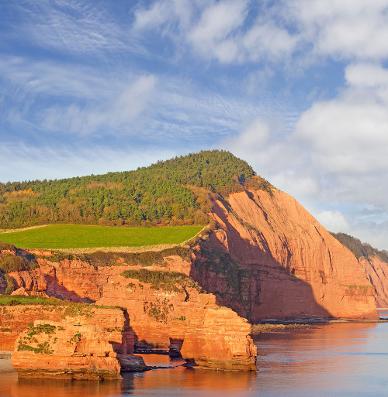 Ladram Bay, Jurassic Coast World Heritage Site. Spectacular sea-stacks made from Triassic Otter Sandstone which contains reptile fossils.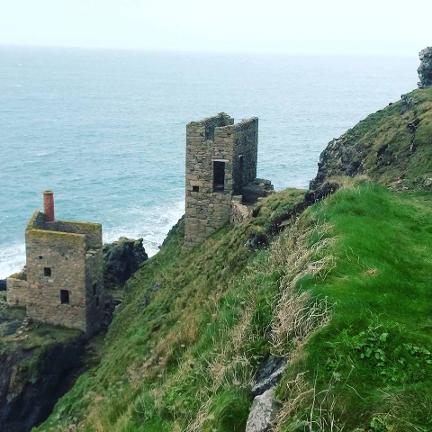 Botallack Tine Mine near Land's End, Cornish Mining World Heritage Site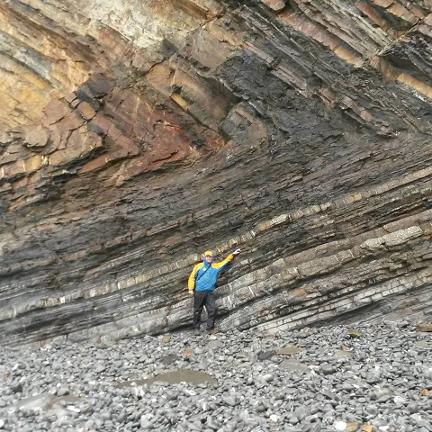 Your guide James Cresswell with chevron folds at Millook Haven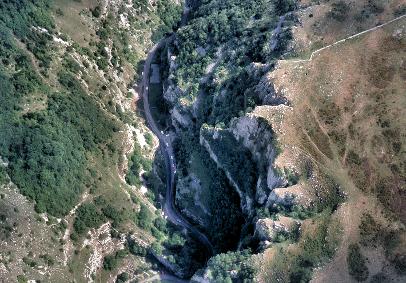 Aerial view of Cheddar Gorge
Day 1 - Arrive in Bath. The City of Bath is a UNESCO World Heritage Site, and the famous baths built by the Romans in AD 60 are Britain's best known geothermal area. The city has excellent transport links to London and Bristol airports.
Day 2 - Three World Heritage Sites: City of Bath, Stonehenge and Jurassic Coast. In the morning we visit the Roman Baths, then drive to Stonehenge, also a World Heritage site, a prehistoric ring of standing stones set within earthworks. The stones used are a mixture of bluestones from the Presili mountains in Wales, Ordovician dolerite, rhyolite and volcanic and calcaerous ash. We then drive on to Old Harry Rocks, chalk stacks marking the eastern boundary of the Jurassic Coast World Heritage Site. The night is spent in nearby Swanage. As an optional extra in the evening, it is possible to climb down 70m of steps to Durlston Bay, a site of special scientific interest whose Cretaceous rocks have yielded crocodile, turtle, dinosaur, insect and mammal fossils.
Day 3 - Isles of Purbeck and Portland, Jurassic Coast World Heritage Site, Dorset. Our first stop is a recently discovered sauropod dinosaur track-way at a nearby secret location. We then visit the village of Kimmeridge, this village lends its name to the Kimmeridgian stage of the Upper Jurassic, and to the Kimmeridge clay which has yielded many important fossils and is the source rock for North Sea oil. In Kimmeridge we will visit the new fossil museum (The Etches Collection – Museum of Jurassic Marine Life) which contains over 2000 specimens that were found in the Kimmeridge Clay. The next stop is the famous Lulworth Cove which forms a perfect bay. At this site we can also see the Lulworth Crumple and the nearby Fossil Forest, with a 1.5 mile round walk to the iconic Durdle Door arch. We then drive on via the Isle of Portland, the home of Portland Stone, possibly the most famous building stone in the world. Many of London's finest buildings have been, and continue to be, built using this fine white limestone. Sir Christopher Wren famously chose the stone for the rebuilding of St. Paul's Cathedral after the Great Fire of London in 1666. We then drive down the length of 17 mile long Chesil Beach (one of the finest barrier beaches in the world) with a view stop near Abbotsbury. We finally reach Lyme Regis where we will spend the next 2 nights.
Day 4 - Lyme Regis and Charmouth, Jurassic Coast World Heritage Site, Dorset. We spend the whole day here in Lyme Regis and Charmouth, 'the heart' of the World Heritage Site. In Lyme Regis we can visit both the Dinosaur Land Fossil Museum, to see many excellent fossil examples and the Lyme Regis Museum to learn about Mary Anning, Lyme Regis's most famous daughter, described as 'the greatest fossilist who ever lived.' There are also several fossil shops to visit. Additionally we can find our own fossils on Lyme's Monmouth Beach. At Charmouth we will have the whole afternoon (or morning depending on the tide) to collect fossils. The rocks that make up the cliffs at Charmouth are rich in fossils of the animals that swam in the Jurassic seas. Most commonly ammonites and belemnites can be found here but with luck so can ichthyosaur bones. The remains that have been found here represent one of the riches slices of life in Jurassic times anywhere in the world. We will spend a second night here in Lyme Regis.
Day 5 - The Red Coast, Jurassic Coast World Heritage Site, and the English Riveira Geopark, Devon. Our first stop is the town of Sidmouth which sits on Otter Sandstone which is one of the richest sources of Triassic reptile fossils in Britain. We have a short stop here before having a longer stop at Ladram Bay which is also made of Otter Sandstone forming impressive sea stacks. We then move on to Dawlish, where Permain aged New red Sandstone rocks can be seen. Our next stop is Kents Caverns in the English Riveira Geopark. These caves started forming 2.5 million years ago in marine Devonian limestone. The earliest inhabitants of the caves were cave bears which used them to hibernate and give birth. The remains of 300 different bears have been found in the caves. Later the caves became a hyena den and were full of the bones of the animals they ate including woolly rhinoceros, mammoths and horses. The caves were also home to Neanderthals; the oldest known modern human fossil in North West Europe was found in the caves. We will also visit the nearby Hope's Nose headland. This headland gives us a great place in which to examine the marine Devonian rocks and the fossils they contain. The site is also famous for its occurrences of gold, which have now all been collected and reside in London's Natural History Museum. The night is spent in Torquay.
Day 6 - Dartmoor National Park and south Cornwall. We start the day driving through the Dartmoor National Parkand visit Haytor perhaps the park's most iconic granite tour. This is followed by Clapper Birdge. We drive through Tavistock a former stannery town and part of the Cornish Mining World Heritage Site. We then visit Brentor with its iconic church perhced on top. This rocky outcrop is actually not a tor and is made up of lava flows. We then cover some miles to get into the heart of Cornwall and visit the Wheal Martyn China Clay museum. . Our final location for the day is Kynance Cove on the Lizard peninsula. This is England's best example on an ophiolite, where ocean crust has been thrust onto the land. Here green serpentinite rocks can be seen. The night is spent in Penzance.
Day 7 - Cornish Mining World Heritage Site and North East Cornawall's Chevron Folds. We start the day by driving west to St Just, Britain's most westerly village. Rather than visiting the true Land's End point which is over-commercialised we visit the almost as far west but infinitely more scenic Botallack tin mine. The engine house here may look famaliar if you have watched the television series Poldark, because they feature heavily in it. We then visit the next door Geevor Tin Mine and are able to do an underground tour as well as visit the excellent geology museum. We then head to Camborne and visit the Heartlands visitor centre which is on the site of the last tin mine to be closed. We head to north east Cornwall to Millook Haven, recently voted number 9 in a list of the top 100 geosites in Britain, where we will see incredible chevron folds. The night is spent in Barnstaple in Devon.
Day 8 - Exmoor National Park and Cheddar Gorge and Caves. We start the day driving through Exmoor National Park, our first stop is the Valley of the Rocks near Lynton. This is a dry valley on the Exmoor Heritage Coast. We then drive inland to the highest road point in the National Park where we can have a short walk. On the summit of the moor there are fine views and it is possible to see all the way to Wales. We then drive on through the Brendon Hills to reach Kilve in the Quantock Hills Area of Outstanding Natural Beauty. A place with many folds, faults and fossils that was important in the history of geology as the location at which the mechanism of normal faults was first understood. We then drive by Glastonbury Tor this is a conical hill of Blue Lias and clay capped by harder sandstone and is a place of Arthurian legend. Our final stop of the tour is the village of Cheddar, where the famous cheese originates. At Cheddar we visit the famous Gough's Cave where Britain's oldest complete human skeleton, 9000 years old was discovered. We also take a tour of the famous gorge. We then drive through the Mendip Hills Area of Outstanding Natural Beauty to arrive back in the City of Bath with a night in the same hotel
Day 9 - Depart from Bath.
INCLUDED
Geological guiding from an MSc Geoscientist, with bed and breakfast accommodation in 3 Star hotels or equivalent normally with en-suite bathrooms.
Not Included
Transport including flights to and from the City of Bath, evening meals and lunches.
"We got a good tour of the South West in Somerset, Devon and Cornwall and tried our luck as fossil hunters in Lyme Regis. James is a jovial and knowledgeable guide and he selects each destination for its geological relevance- which usually coincides with beautiful and unique landscapes. With just 4 of us on the tour, we got to have some interesting conversations and get to know each other. We found ourselves very tired at the end of each day, having seen several interesting places. Most of the places we visited were outdoors and we counted ourselves lucky that it didn't rain for the entire week of the tour.
Recommended for anyone who hasn't seen the South West or who has once wondered why landscapes look the way they do. If you have a particular interest in geology and/or fossils, this trip is made for you. Bring good shoes and prepare for the English weather!"
Barbara H - Denmark. 20 April 2017.