Polar Circle and Antarctic Peninsula
Polar Circle trips are all about getting south of the Antarctic Circle. This can only be done late in the season when the sea ice is at its lowest extent. These trips are great for glaciology and geology. Traveling later in the season means more rock is exposed because snow cover has melted away.
Make
Contact Now

to find out everything you need to know about this trip.
GeoWorld Travel Director, James Cresswell, guided on at least 50 different Antarctic Expedition Cruises and can answer all your questions!
James guiding in Antarcica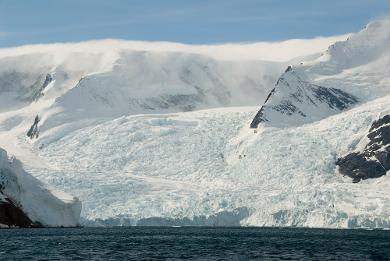 A glacier flowing off the Antarctic Peninsula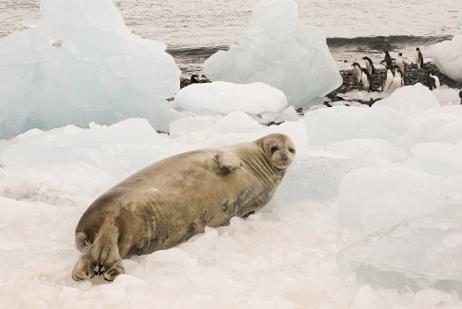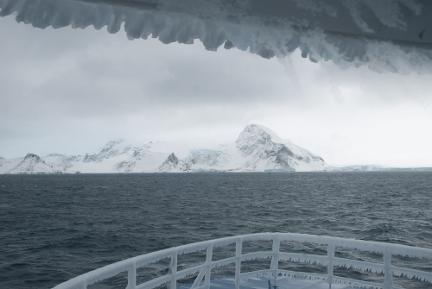 Cold conditions with ice freezing on the ship as it presses on South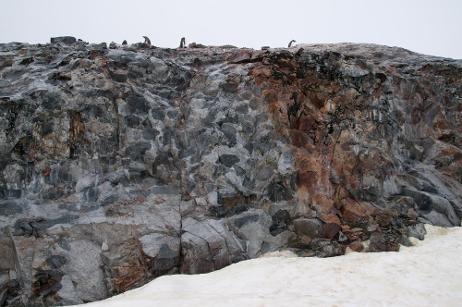 An igneous breccia on Petermann Island
Walking in the Argentine Islands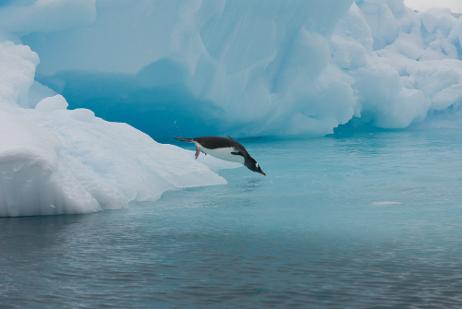 A gentoo penguin dives in
ITINERARY
A typical itinerary to the Antarctic Peninsula is illustrated below. All itineraries are for guidance only. Programs may vary depending on local ice and weather conditions, the availability of landing sites and opportunities to see wildlife. The final itinerary will be determined by the Expedition Leader on board. Flexibility is paramount for expedition cruises.
Day 1: Ushuaia - In the afternoon, we embark in Ushuaia, Tierra del Fuego, Argentina, the southernmost city in the world located at the Beagle Channel and sail through this scenic waterway for the rest of the evening.
Days 2 & 3: At sea - During these two days we sail across the Drake Passage. When we cross the Antarctic Convergence, we arrive in the circum-Antarctic up welling zone. In this area we may see Wandering Albatrosses, Grey Headed Albatrosses, Black- browed Albatrosses, Light- mantled Sooty Albatrosses, Cape Petrels, Southern Fulmars, Wilson's Storm Petrels, Blue Petrels and Antarctic Petrels. Near the South Shetland Islands, we spot our first icebergs. The Master of the vessel may decide to sail the narrow English Strait between Robert Island and Greenwich Island or McFarlane Strait between Greenwich Island and Livingston Island if the conditions are favourable. Then we might be able to enter Antarctic coastal waters in the late evening of the third day and see Aitcho Island at the South Shetlands. If the conditions do not allow us to manoeuvre through the English Strait then we continue sailing South of Livingston. These volcanic islands or the South Shetlands are windswept and often shrouded in mist and fog, but do offer subtle pleasures. There is a nice variety of flora (mosses, lichens and flowering grasses) and fauna, such as Gentoo Penguins, Chinstrap Penguins and southern Giant Petrels.
Days 4 – 9: Antarctica - We may start our first day in Antarctica with a landing at Hannah Point, where we will find a nice variety of Gentoo Penguins, Chinstraps and southern Giant Petrels, as well as Elephant Seals hauling out on the beach. At Deception Island is a sub ducted crater, which opens into the sea creating a natural harbour for the ship. Here we find hot springs, an abandoned whaling station, thousands of Cape Petrels and many Kelp Gulls, Brown and South Polar Skuas and Antarctic Terns. Wilson's Storm Petrels and Black-bellied Storm Petrels nest in the ruins of the whaling station in Whalers Bay. On our way further South we call at Cuverville Island, a small precipitous island, nestled between the mountains of the Antarctic Peninsula and Danco Island. It contains a large colony of Gentoo Penguins and breeding pairs of Brown Skuas. In Neko Harbour and Paradise Bay with its myriad icebergs and deep cut fjords, we have the opportunity to set foot on the Antarctic Continent. We shall have the opportunity for zodiac cruise between the icebergs in the inner parts of the amazing water way of Paradise Bay.
We sail through the spectacular Lemaire Channel to Petermann Island offering Adélie Penguins and Blue-eyed Shags. We also try to land at Pléneau Island with a fair chances to encounter Humpback and Minke Whales. Overnight we head south along the Argentine Islands to Crystal Sound, and cross the Polar Circle in the morning. We aim to make a landing at the abandoned British station on Detaille Island which is likely to be our furthest south. The landscape is very impressive with very high mountains and huge glaciers. We may reach the Fish Islands on the way northwards were we encounter one of the southernmost Adélie Penguin and Blue-eyed Shag colonies in the Antarctic Peninsula. Sailing north again through Neumayer Channel and Gerlache Strait, we arrive at the Melchior Islands with a very beautiful landscape with icebergs, where we may encounter Leopard Seals, Crabeater Seals and whales.
Days 10 - 11: At sea - On our way north we are again followed by a great selection of seabirds while crossing the Drake Passage.
Day 12: Ushuaia - We arrive in the morning in Ushuaia and disembark.
OUR GREEN PROMISE
If you book this Expedition Cruise through us we will pay your Carbon Offset for you and will provide you a Certificate on completion of your expedition.
PER PERSON CARBON DIOXIDE GENERATED BY THIS EXPEDITION
= 5.5 T
It is your responsibility to book your travel to and from the start and finish of the expedition. This is normally a flight. If you would like to carbon offset this cost please use our carbon offset calculator here.
GEO-RATING OF THIS EXPEDITION CRUISE
This expedition has a 3 hammer rating:
SHIP INFORMATION
This trip runs at several different times during the year on either of our 2 vessels: MV Plancius and MV Ortleius. Please contact us to select which date and cabin type will suit your needs best.