ROSS SEA SEMI - CIRCUM NAVIGATION OF ANTARCTICA
Join us for an exploratory voyage to the Antarctic Peninsula, to the rarely visited volcanic Peter I Island, to the huts of the British explorers Ernest Shackleton and Robert Falcon Scott on Ross Island, to McMurdo Station and the Dry Valleys and to Campbell Island, home to the Southern Royal Albatrosses.
Make
Contact Now

to find out everything you need to know about this trip.
GeoWorld Travel Director, James Cresswell, guided on at least 50 different Antarctic Expedition Cruises and can answer all your questions!
Campbell Island, an old volcano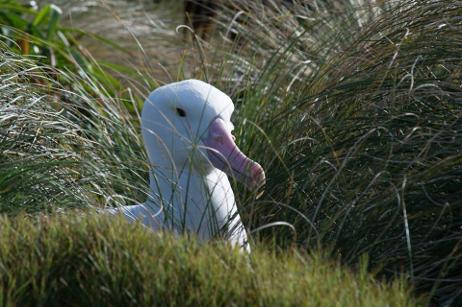 A Royal Albatross on Campbell Island
Cape Adare, Victoria Land - the remenants of an englacial volcano
Flying over the oldest buildings in Antarctica. Borchgrevink's huts Cape Adare
Zodiac cruising through pancake ice
Mt Melbourne volcano, Victoria Land
Emperor Penguins in the Ross Sea
Flying into the Dry Valleys
The Canada Glacier - Dry Valleys
Sea ice, iceberg and Mt Bird volcano behind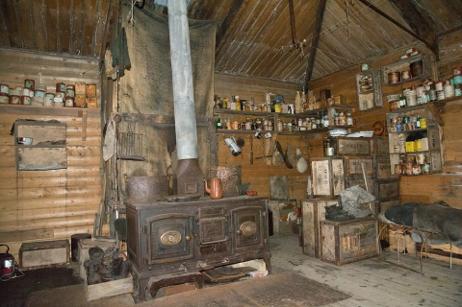 Inside Shackleton's hut at CapeRoyds
Landing on Peter 1st island that may have had fewer visitors than space.
itinerary
A typical itinerary is illustrated below. All itineraries are for guidance only. Programs may vary depending on local ice and weather conditions, the availability of landing sites and opportunities to see wildlife. The final itinerary will be determined by the Expedition Leader on board. Flexibility is paramount for expedition cruises.
During these voyages we will transfer our passengers ashore by zodiac. But, we will also operate our two helicopters in certain sites where Zodiacs cannot be used. Potential candidates (not guaranteed) for helicopter transfers are Cape Evans (hut of Scott), Cape Royds (hut of Shackleton), Ross Ice Shelf at Bay of Whales, Peter I Island, and the Dry Valleys.
In theory, we plan on five helicopter based landings, but a specific amount of helicopter time cannot be predicted. The use of helicopters is a great advantage and can support us in our goal to reach certain landing sites, that otherwise are almost inaccessible. However, this is a true expedition and we operate our itinerary in the world's most remote area, ruled by the forces of nature, weather and ice conditions. Conditions may change rapidly; having its impact on the helicopter operation and passengers should understand and accept this. Safety is our greatest concern and no compromises can be made. No guarantees can be given and no claims will be accepted. The vessel is equipped with two helicopters, but in the case that one helicopter is unable to fly due to for example a technical failure, the helicopter operation will cease or even be cancelled, due to the fact that one helicopter always needs to be supported by a second operational helicopter. No guarantees can be given and in no event will claims be accepted.
Day 1: Ushuaia - In the afternoon, we embark in Ushuaia, Tierra del Fuego, Argentina, the southernmost city in the world located at the Beagle Channel and sail through this scenic waterway for the rest of the evening.

Day 2 – 3: at sea

Day 4: We arrive in the Antarctic Peninsula and sail in the early morning through the spectacular Lemaire Channel and land on Pléneau Island, where Elephant Seals haul-out on the beaches. Gentoo Penguins, Kelp Gulls and South Polar Skuas are confirmed breeders. Pléneau Island was first charted by the French Antarctic Expedition of 1903-05 of Jean-Baptiste Charcot and was named after his expedition's photographer Paul Pléneau. We will also visit Petermann Island with colonies of Adélie and Gentoo Penguins and Imperial Cormorants (Blue-eyed Shags). Petermann Island was named after the German geographer August Petermann who was a member of a German Expedition in 1873-74.

Day 5: Sailing south through the Penola Strait, we cross the Polar Circle and arrive at the Fish Islands. The small islands lying east of Flouder Island are called the Minnows, first charted by the British Graham Land Expedition (1934-37) of John Rymill. Detaille Island was discovered by the French expedition of Charcot (1903-05) and named for a share holder in the Magellan Whaling Company. From 1956 till 1959, The British Antarctic Survey had their "Station W" located on Detaille
Island. On both locations we may observe Adélie Penguins and Blue-eyed Shags.

Day 6 – 7: Bellingshausen Sea, where we may see our first pack-ice

Day 8: Peter I Island or in Norwegian Peter I Øy is an uninhabited volcanic island (19 kilometres long ) in the Bellingshausen Sea. It was discovered by Fabian von Bellingshausen in 1821 and was named after the Russian Tsar Peter I. It is claimed by Norway and considered a territory by its own. It is sporadically visited by passenger vessels.

Day 9 – 14: These days we sail through the Amundsen Sea along and through the outer fringes of the pack-ice, which - depending on ice-conditions - will give us glimpses of the Antarctic Continent, while we take advantage of the west-going Antarctic coastal current. The sailing along and through the ice is very lively, with sightings of single straggling Emperor Penguins, groups of seals on ice-floes, and also Orca's and Minke Whales along the ice-edge, often accompanied by different species of fulmar petrels. If the sea-ice allows, we will try to land on Shephard Island in Marie Byrd Land among colonies of Chinstrap Penguins and South Polar Skua's. Shephard Island was discovered by the US Antarctic Expeditions (USAS) of 1939-41 and was named after one of the promoters of this expedition: John Shephard.

Day 15: We approach the Ross Ice Shelf, a floating mass of land-ice, with a front of 30 meters high. We intend to offer a helicopter landing on the Ross Ice Shelf.In the Bay of Whales at the eastern side of the shelf, close to Roosevelt Island (named by the American aviator Richard E. Byrd in 1934 for President Franklin D. Roosevelt), Roald Amundsen gained access to the Shelf and ventured to the South Pole, where he finally arrived on 14 December 1911. For us it is perhaps a chance to climb on the shelf as well.

Day 16: Along the Ross Ice Shelf we sail to the west.

Day 17 – 21: In the Ross Sea we intend to visit Ross Island, guarded by Mount Erebus, Mount Terror and Mount Bird with all the famous spots which played such an important role in the dramatic British expeditions of the last century such as Cape Royds with the cabin of Ernest Shackleton. We also intend to visit Cape Evans with the cabin of Robert Falcon Scott; from Hut Point Scott and his men set out for the South Pole. We will further make attempts to visit the US-station McMurdo and Scott Base (New Zealand). If ice and weather conditions are favourable, we will use the helicopters to offer landings. From Castle Rock we will have a great view across the Ross Ice Shelf toward the South Pole. We will have a view into Taylor Valley, one of the Dry Valleys, where on our planet you are closest to the conditions on Mars. For the Dry Valleys we plan to use our helicopters. This is just one example of helicopter use during this epic voyage.

Day 22 - 23: Sailing northward along the eastern west coast of the Ross Sea ,we pass by the Drygalski Ice Tongue and the Italian Station in Terra Nova Bay and further cape Hallet.

Day 24: Cape Adare is the place where people for the very first time wintered on the Antarctic Continent. The hut where the Norwegian Borchgrevink stayed in 1899, is surrounded by the largest colony of Adélie Penguins in the World.

Day 25: At sea, working our way through the sea-ice at the entrance of the Ross Sea.

Day 26: We sail along the Balleny Islands, discovered in 1839 by the British captain John Balleny.

Day 27 – 28: at sea.

Day 29: Macquarie Island is a Tasmanian State Reserve and became in 1997 a World Heritage Site. The Australian Antarctic Division has its permanent base on "Macca". The Australian Frederick Hasselborough discovered the island during a voyage, searching for new sealing grounds. The fauna on Macquarie is fantastic with colonies of King and Gentoo and Southern Rockhopper Penguins. The Royal Penguins (almost one million breeding pairs!) and Macquarie Shags are endemic species. Elephant Seals are also present, as well as various fur seals species such as the New Zealand Fur Seal.

Day 30 – 31: at sea.

Day 32: We arrive in Invercargill (New Zealand) where passengers depart for their homebound journey. Voyage OTL27 ends in Ushuaia, Argentina and starts in Invercargill and offers the same itinerary as described above, but in reverse
Mt Erebus phreaticly erupting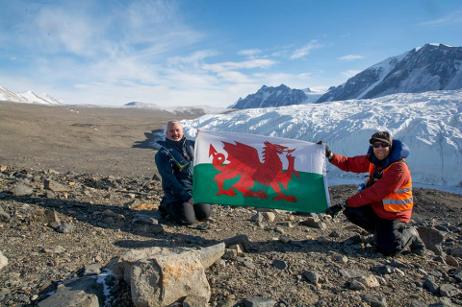 GeoWorld Travel Director and fellow Welshman, Rob Lott, in the Dry Valleys
OUR GREEN PROMISE
If you book this Expedition Cruise through us we will pay your Carbon Offset for you and will provide you a Certificate on completion of your expedition.
PER PERSON CARBON DIOXIDE GENERATED BY THIS EXPEDITION
= 16.4 T
(+ additional amount for helicopter flights, which is still being calculated)
It is your responsibility to book your travel to and from the start and finish of the expedition. This is normally a flight. If you would like to carbon offset this cost please use our carbon offset calculator here.
GEO-RATING OF THIS EXPEDITION CRUISE
This expedition has a 4 hammer rating:
SHIP INFORMATION
This trip runs on MV Ortleius. Please contact us to select which date and cabin type will suit your needs best.