Wales
Castles and Dragons
This tour has no scheduled departures at present however Most of the sites are visited in our NEW combined England and Wales tour. Please click here to view its itinerary
If you are interested in doing the original Wales only itinerary as a Private Tour please make contact with us
Cardiff to Cardiff
Includes 3 National Parks, 2 Geoparks, 3 World Heritage Sites and 14 Castles
Exclusive small group tour, number of participants : 4 - 6
Includes: Bed and Breakfast accommodation, transportation, geological guiding and all castle and geosite entrance fees.
Prices are per person, based on 2 people sharing a room. Single supplement applies please make contact for details.
Wales is a fantastic country for a geotour. It lends its name to the Cambrian Period, as Cambria was the Roman name for Wales. The Welsh tribes the Ordovicies and Siluries also lend their names to the Ordovician and Silurian Periods. Additionally several Welsh towns and villages givetheir names to Ordovician and Silurian stages. Wales also has 600 castles and we have the opportunity to visit some of the most impressive on our tour.
The Blaenavon Ironworks at the Blaenavon World Heritage Site.
Trilobites from Gilwern Hill Quarry near Llandrindod Wells.
A view of Wales' highest mountain: Mount Snowdon
Dinorwig Power Station and Slate Quarry, Snowdonia National Park.
Caernarfon Castle part of the Castles and Town Walls of King Edward in Gwynedd World Heritage Site.
Llanfairpwllgwyngyllgogerychwyrndrobwyllllantysiliogogogoch in the GeoMon Geopark in Anglesey, the longest place name in the world, and home to blueschist rocks that were formed in a Pre-Cambrian
subduction zone.
Parys Mountain in the 19th Century this was the largest copper mine in the world.

GeoMon Geopark, Anglesey.
The prehistoric copper mine at the Great Orme near Llandudno.
On the Long Mynd, looking across to Caer Caradoc, South Shropshire Area of Outstanding Natural Beauty.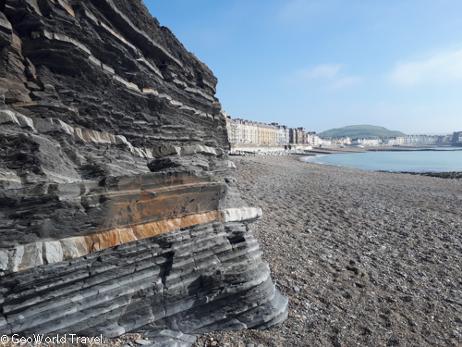 Turbidite deposits at Aberystwyth.
Stonehenge Bluestone Quarry, Preseli Mountains, Pembrokeshire Coast National Park.
Folding in the coal measures at Broad Haven, Pembrokeshire Coast National Park.
Bwa Maen, a faulted Variscananticline, Fforest Fawr Geopark.
The Triassic dinosaur trackway near Barry, Glamorgan Heritage Coast.
ITINERARY
Day 1 - Arrive in Cardiff the Capital of Wales. Cardiff has its own international airport and is only 2 hours by train from London.
Day 2 - Blaenavon World Heritage Site, Brecon Beacons National Park and Gilwern Hill Trilobite Quarry. Our first stop of the day is at the Blaenavon World Heritage Site, where we can descend the Big Pit coal mine and visit the ironworks where steel was first made from high sulfur coal, enabling the Industrial Revolution to begin around the world. We then descend into the Brecon Beacons National Park, with magnificent views, and drive past Tretower, Crickhowell and Blaenllynfi castles to reach Llangorse Lake, the largest natural lake in Wales that formed in the last Ice Age. After visiting Llangorse Lake we have a short visit to the small Bronllys Castle which has fine views from its tower before, and heading further north in Mid Wales to visit the Gilwern Hill Trilobite Quarry, near Llandrindod Wells. This site is the best place in Great Britain to find trilobites. We spend several hours here finding and collecting our own fossils before moving on to Llanidloes to spend the night.
Day 3 - Snowdonia National Park. We start by crossing the Cambrian Mountains which lend their name to the Cambrian Period, passing several abandoned lead mines and with great views before reaching Snowdonia National Park. In the southern area of the park we pause for views of Cadair Idris Mountain and the area where the majority of Welsh gold has come from. We then continue on through the village of Tremadog, which lends its name to a Stage of the Ordovician. We then pass the base of Wales's highest mountain, Snowdon, which is made up of Ordovician volcanic rock before reaching our first stop in the national park, the village of Llanberis. In Llanberis we visit the National Slate Museum and Dolbadarn Castle. Our next stop is the Ogwen Step, where a Roman Bridge can be seen hidden right under the main road bridge. Here tuff beds of volcanic ash can be seen and in one bed there are many fossil brachiopods that were killed by a volcanic eruption. We then take a walk into Cwm Idwal, a spectacular glaciated valley where we will see Darwin's Boulders; this is where he first realized Britain must have once been glaciated. Our final stop is at a scenic waterfall in the village of Bettws y Coed, before heading to Llandudno, where we spend the night.
Day 4 - Great Orme Prehistoric Mine, Caernarfon Castle World Heritage Site and the GeoMon Geopark. Our first stop of the day is the Great Orme prehistoric Copper Mine. Here we can descend into the mine shafts that were carved out by Bronze Age workers thousands of years ago. We then move on to Caernarfon Castle, part of the Castles and Town Walls of King Edward in Gwynedd World Heritage Site. This castle is considered by many to be the finest castle in all of Wales and it is here that the modern day Prince of Wales is crowned. We then cross the Menai Straits to the Island of Anglesey which forms the GeoMon Geopark. Our first stop on the island is at Llanfairpwllgwyngyllgogerychwyrndrobwyllllantysiliogogogoch, the longest place name in the world or Llanfair P.G. for short! Here we can see Precambrain blueschist rocks that were formed in a subduction zone. This is followed by a visit the railway station and the famous place name signs. After this we call into Amlwch Port and the Geopark Visitor Centre, before visiting Parys Mountain. Here, smokers rising from under the sea bed disseminated copper and other metals into the Silurian-age mudstones on the sea floor. During the 19th century, Parys Mountain was the largest copper producer in the world. The ore was exported from Amlwch Port. Mining has taken place sporadically from Bronze Age to present times. We then cross the Menai Strait back to mainland Wales, driving through the World Heritage walled town of Conwy to closely view its castle before and spending a second night in Llandudno.
Day 5 - Clwydian Range AONB, Pontcysyllte Aquededuct World Heritage Site and Shropshire Hills AONB. Today, we start by driving through the Clwydian Range Area of Outstanding Natural Beauty passing Denbigh, Ruthin and Castell Dinas Bran castles before reaching the Pontcysyllte Aqueduct World Heritage Site. We will criss-cross the modern border between Wales and England a number of times, before reaching the Shropshire Hills Area of Outstanding Natural Beauty. Our first stop in the AONB is at a view point on the Long Mynd mountain (made of Precambrain rock) to observe the Church Stretton Fault and Caer Caradoc. Caer Caradoc is a mountain and hillfort which was the site of a battle between the Ancient British King Caratacus and Romans. Caratacus's forces consisted of the Ordovicies and Siluries tribes, after which the Ordovician and Silurian Periods are named. Additionally Caer Caradoc lends its name to the Caradoc epoch of the Ordovician. We then drive through Church Stretton where we will get fine views of Wenlock Edge which lends its name to the Wenlock epoch of the Silurian and demonstrates the best examples of Silurian reef development in Britain. In the mid-afternoon, we arrive in Ludlow, which gives its name to Ludlow Stage of the Silurian Period. Here we examine the famous Ludlow Bone Bed before having free time in the town, when you may wish to visit the castle and wander around the medieval town. We spent the night at a hotel in Ludlow town centre.
Day 6 - Mid Wales - Stanner Rocks, the Elan Valley and Devil's Bridge. Today we return to Wales visiting Stanner Rocks which is right on the Welsh/English border. These rocks are pre-Cambrian in age and are the remains of volcanoes. We then drive through the beautiful Elan Valley with its scenic Victorian dams to reach Cwmystwyth, a former lead mine. At the mine it is possible to find our own samples of galena. We then reach Devil's Bridge where great waterfalls can be seen, before moving on to the university town of Aberystwyth. We spend some time looking at the turbidite layers before having free time, which you may wish to spend visiting the ruined castle or exploring the town.
7 - Pembrokeshire Coast National Park. We start the day by heading to a quarry in the Preseili Mountains, of the Pembrokeshire Coast National Park where the Bluestones of Stonehenge may have originated. Our next stop is the nearby Pentre Ifan burial chamber. We then drive on to Abereiddi Bay and Llanvirn Farm, which lends its name to the Llanvirn of the Ordovician. Abereiddi Bay is a former slate quarry with a beautiful blue lagoon; graptolites are very common here. We then visit St Davids, the smallest city in Britain. Its amazing cathedral is made from beautiful purple Cambrian sandstones. The next stop is the famous fossil site of Porth y Rhaw. Here the rocks are Cambrian in age. This is the site where, in 1862, palaeontologist J.W. Salter discovered the Paradoxides davidis trilobite; the exact same species of trilobite was later found in the rocks of Newfoundland. Our last stop of the day is at Broad Haven where we can see amazing Variscan folds in the coal measures. The night is spent in Pembroke, which has a mighty castle that can be viewed from the outside.
Day 8 - Pembrokeshire Coast National Park, Fforest Fawr Geopark and Brecon Beacons National Park. Our first stop of the day is the Green Bridge of Wales (dependent on the opening times of an Army firing range that we have to cross). Our next stop Stackpole Quay where impressive folds and faults are seen in the Carbonifeous limestone. There are also fossil crinoids to be seen. We then continue to Skrinkle Haven passing Manorbier Castle. Here we can see the Carboniferous/Devonian contact and the vertical strata of the rocks forming the cliffs, and an impressive blow hole and arches. We then drive past the Welsh built Dryslwyn and Dinefwr Castles pausing to takes pictures and discuss their histories. Dinefwr was the discovery site of the first trilobite known to science. We then arrive in the town of Llandeilo, for lunch, which lends its name to a stage of the Ordovician. Our next stop is the Roman gold mines of Dolaucothi. We spend 2 hours here and take an underground tour. We then proceed on through Llandovery which has a ruined castle and gives its name to a stage of the Silurian. Llandovery is situated both in the Fforest Fawr Geopark and Brecon Beacons National Park. We briefly stop at the oldest tree in Europe before reaching the the town of Brecon where we spend the night.
Day 9 - Fforest Fawr Geopark, Brecon Beacons National Park and Glamorgan Heritage Coast. Our first stop is a view point from which all 4 mountain ranges of the Brecon Beacons National park can be seen. We then proceed to the National Show Caves of Wales, and visit 3 different caves. We then visit a Varsican fold called Bwa Maen. Here we also seen the Neath Valley Disturbance fault, the Sychrhyd waterfall, an adit of a former silica mine and legend has it the resting place of King Arthur's Army. We then travel south to the Glamorgan Heritage Coast, to visit the best Triassic Dinosaur trackway in Europe. This is followed by Lavernock Point where the Triassic/Jurassic boundary can be seen; there are many ammonites in the hard layers and recently a new species of Welsh dinosaur was discovered here. Our tour then ends in the city of Cardiff where you will spend the night in a hotel.
Day 10 - Depart. Cardiff also boasts an excellent castle that you can visited in your own time on departure day.
Castles seen on this tour
Cardiff Castle - seen from the outside but can be optionally visited before or after tour in your own time
Castell Coch - seen from outside only
Crickhowell - seen from outside only
Tretower - seen from outside only
Blaenllynfi - seen from outside only
Bronllys - visited
Dolbadarn - visited
Caernarfon - visited
Conwy - seen from outside only
Denbigh - seen from outside only
Rhutin - seen from outside only
Castell Dinas Bran - seen from outside only
Ludlow - optional visit in free time
Aberystwyth - optional evening visit
Cardigan - seen from outside only
Pembroke - seen from outside only
Dryslwyn - seen from outside only
Dinefwr - seen from outside only
Llandovery - visited
Brecon -optional evening visit
INCLUDED
Geological guiding from an MSc Geoscientist, with bed and breakfast accommodation in 3 Star hotels or equivalent normally with en-suite bathrooms.
NOT INCLUDED
Transport including flights to and from Cardiff, evening meals and lunches.
Extension
Our Wales trip can be done as the second part of a double England and Wales trip. Before the Wales tour, why not join our England 'Jurassic Coast and Cornish Tin Mines' tour and have a free weekend in between (where we can help you with all your arrangements). New GeoWorld Travel customers can have 5% off the Wales tour if they also book on the England tour and previous GeoWorld Travel can have 5% off both tours.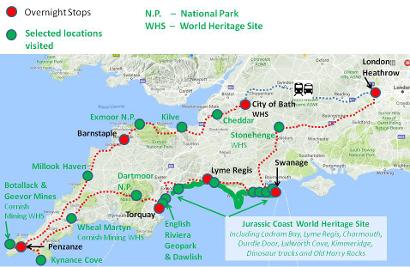 Pictures and reviews from Previous Trips
"I am just back from my first Geotour to Wales. The tour lasted a bit over a week. I lived in Wales until I was 8 and was keen to see the country again as I now live in Scotland. (I have had occasional visits over the years).
The tour started from and ended in Cardiff. We were booked into a hotel in the city centre. I arrived a couple of days early and really enjoyed this time, visiting the wonderful geological exhibition at the museum, attending a concert, exploring the attractions of the waterfront and returning to Cardiff Castle by water bus.
We met up on the Monday evening at the hotel. Apart from James, there were 6 of us in the party, two couples from the USA, myself and another British lady. There was varying levels of knowledge about Earth science. It made no difference at all as James explains things so well.
The trip was extremely well organised. Every day was planned out with interesting visits and arranged stops for lunch at cafes or pubs and toilet stops too. My experience with other organisations has been to take a picnic lunch and toilet breaks have sometimes been decidedly tricky! The hotels we stayed in were all of a good standard, in town centres with shops and restaurants close by, often serving their own meals in the evenings. Many were in very pretty locations so, if you were so inclined, you could take an evening stroll. We started each day by having a hearty breakfast in the hotel.
James used his car for transport. It took 7 people and a lot of luggage. We usually set off about 8.30 am each morning and got to our hotel each evening about 6 pm. We changed seats during the trip. James knows his way around. We went to very scenic places, stopping to admire the views, and often travelled on very minor roads that would only be known to local people. The scenery was breath taking, mountains, hills and valleys, seascapes and cliffs and beaches and everything was wonderfully green and the blossom was out.
We also packed in so much geology! We saw and investigated a wonderful array of mines, (underground and open cast, mostly historical) – coal, slate, copper, lead/silver, gold. It was a history lesson in the story of Wales's past industries and her people. There were guided tours of 3 of the underground mines, all excellently done by local people, often with family connections to the mining industry.
We saw wonderful rock formations. We visited the fantastic folded rocks on the island of Anglesey. We stopped to view an interesting fossilised river bed. James pointed out U shaped valleys carved by the ice and V shaped valleys created by the rivers. We visited the fascinating ancient cave systems with information about our early ancestors.
We visited fossil sites to hunt for our own fossils. Generally we were blessed with the weather, hot and sunny, but occasionally it was cold, wet and windy. Our visit to the trilobite quarry was in awful weather but the excitement of finding the trilobite fossils! We then had the use of a luxury hut on site where we could have a hot drink. We searched for ammonite and brachiopod fossils on beaches. We looked for dinosaur footprints close to Cardiff city centre in the former dockland area.
We learnt about Welsh history too. We visited famous and impressive castles and passed by many more. Climbing up the towers gave wonderful views over the surrounding countryside and towns. We could also get souvenirs at the gift shops. James's fiancée, Abby, joined us for the week end, providing another car. Abby is an archaeology expert so we had the benefit of her experience too.
It was a full itinerary, packed with interesting visits and places to see. James and Abby were great guides, always helpful, supportive and enthusiastic. It is a trip that will leave you with wonderful memories of both the past and recent history of Wales."
Sue Morris, North Berwick, Scotland -May, 2018
"A Tour of Wales in May 2013, with resident geoscientist James Cresswell, in our opinion rated 5 stars in all categories! It was a well-chosen blend of geology, history, culture, and scenery impossibly packed into seven days. Travel for our small group was by car on sealed roads and entirely satisfactory; accommodation was usually in mid-range hotels but included a superb B&B in Brecon Beacons National Park (Tara, Felindre). We could not have had a better leader: warm, cheerful, knowledgeable, attentive to our every wants and needs. Thank you, James! The range of geologic sights was amazing; surely something for everyone. Paleontology was the lead-off subject. On arrival evening we were picking up ammonites on the beach near our hotel, and the next day following a Mesozoic dinosaur trackway; in subsequent days searching out graptolites and trilobites (Wales hosts the Type Sections for the Cambrian, Ordovician, and Silurian ). A focus on economic geology? Visits to once world-famous but now mostly inactive coal, slate, gold, lead-silver mines and related industrial facilities (in the 19th C. Wales was unsurpassed in coal production). Structural geology and tectonics? Multi-stage structures splendidly exposed in sea cliffs; extraordinary coastal displays of melange; glauconite-rich blue schists from deep in the crust or upper mantle; pillow basalts; silicic ash-flow tuffs; and more. It was amazing to contemplate that we could walk terraine once ripped from what is now Newfoundland during the sundering of Gondwana! Interspersed with all this geological variety are relics of human activity dating from earliest times on: dimension stone destined for Stonehenge; steles; ancient crypts; even a rare "cranog" ; walls, forts, castles, priories, etc., testimony to vicissitudes of Celtic, Anglo-Saxon, and Norman preeminence and strife. We found it impossible to absorb and digest everything on our plate on this all-too-brief tour but we expect it to provide sustenance for years to come! Hats off to GeoWorld!"
Dick Blank, California, USA - July 2013
"Our holiday was a fantastic tour-de-force through the geology, scenery, history and culture of Wales visiting 2 Geoparks, 3 National Parks and 2 World Heritage Sites - all in one week!"
Allen Fraser - The Shetland Islands, UK - May 2013