Germany
aRCHEOPTERYX ADVENTURE With Volcanoes and Geoparks
Bonn to Munich
8 - 15 March, 2018
£1120
Includes 3 Geoparks and 1 World Heritage Site
Exclusive small group tour, number of participants : 4 - 7
Prices are per person, based on 2 people sharing a room. Single supplement is an additional £60 per night.
The 'Eyes of Eifel' maars near Daun formed from steam explosions.
By Martin Schildgen https://commons.wikimedia.org/w/index.php?curid=987174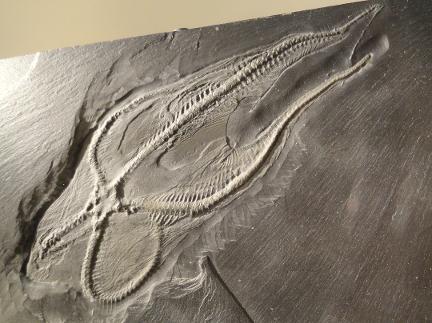 Loriolaster mirabilis brittle star fossil from the Hunsrück Slate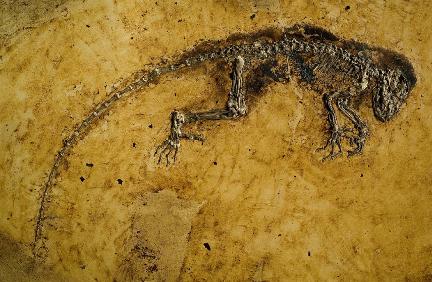 Darwinius masillae a species of primate from the Messel Pit World Heritage Site
By Jens L. Franzen, Philip D. Gingerich, Jörg Habersetzer1, Jørn H. Hurum, Wighart von Koenigswald, B. Holly Smith - https://commons.wikimedia.org/w/index.php?curid=6926953
Marine reptile skeleton Temnodontosaurus acutirostris, with ammonites: Harpoceras falcifer Stage : Lower Jurassic (Toarcian) 185 million years Locality : Holzmaden Germany
By Didier Descouens - Own work, CC BY-SA 4.0, https://commons.wikimedia.org/w/index.php?curid=12740006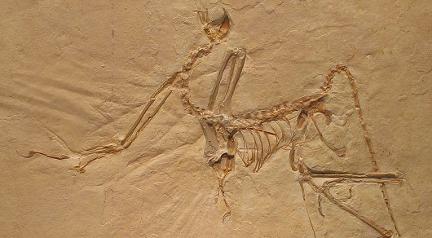 An Archeopteryx fossil bird from the Solnhofen limestone.
Itinerary - 8 Days
Day 1. Arrival in Bonn. Transfer from the airport to our hotel.
Day 2. Vulkaneifel Geopark - Volcanoes of Germany. In the Eifel region there are hundreds of former eruptive centres with lava domes, calderas and cinder cones. Our first stop, in the East Eifel area, is the caldera of Laacher which erupted 13000 years ago. Here at a site called Wingertsbergwand we look at 40m thick tephra deposits and visit the Lava Dome and Roman Mine museums. We then drive to the Powder Maar (Pulvermaar) near Gillenfield. This is the picture-perfect maar of the geopark. A maar is a volcanic crater formed by a steam explosion when water comes into contact with magma beneath the surface. Nearby, at Strohn, we see the famous 120 ton, 5m diameter lava bomb that was ejected from an eruption. We then visit Windborn that, rather than being a maar, is a true crater lake in a scoria cone. The night is spent in Daun near the 'Eyes of Eifel' maars.
Day 3 - Bundenbach - Hunsrück slate fossils. We spend the day at Bundenbach a world famous fossil locality. Beautifully preserved detailed fossils have been found in the slates from the lower Devonian period (400 million years old) and fossils from the marine deposits in this area can be seen in many museums in the world. We will visit the small museum in the old quarry at Herrenberg in Bundenbach. It's even possible to find our own fossils in the Herrenberg quarry! We then drive for 2 hours to Darmstadt where we spend the night.
Day 4 - Messel Pit UNESCO World Heritage Site, fossil quarry situated inside the Bergstrasse-Odenwald Geopark. Today we visit the Messel Pit which is the richest site in the world for understanding the living environment of the Eocene, between 57 million and 36 million years ago. In particular, it provides unique information about the early stages of the evolution of mammals and includes exceptionally well-preserved mammal fossils, ranging from fully articulated skeletons to the contents of stomachs of animals of this period. Here we take a guided tour of the pit and visit the Visitor Centre. We then visit the Landes museum in Darmstadt where many more Messel Pit fossils can be seen. After this, we drive 2 hours to Holzmaden where we spend the next 2 nights.
Day 5 - Holzmaden, Posidonia shales in the Swabian Alb Geopark. Today we visit Holzmaden, and its Jurassic "Posidonia"-shales. These rocks are famous for the marine reptile fossils they have yielded. Directly opposite the Huff Museum in Holzmaden is a large fossil quarry where we can search for our own fossils. Qualified museum and/or quarry staff will review our findings and decide if we can keep the specimens or if they are to be withheld for the state due to scientific importance. It is likely we may find ammonites, belemnites and even isolated reptile bones. We then visit the museum itself which has an excellent display of fossils. This is followed by a visit to a second fossil quarry, Kromer Slate Quarry, and then the remains of a volcano. The night is spent in Holzmaden.
Day 6 - Swabian Alb Geopark. We start the day visiting the Laichingen Pothole cave which is the deepest cave in the geopark. At the cave site is also a museum which we visit. We then visit Blautopf a spectacular blue coloured kast spring and then journey on to a meteor crater at Steinheim am Albuch. The day ends in Aalen where we take an underground tour of the iron mine. The night is spent in Aalen.
Day 7 - Solnhofen Archeopteryx. Our first stop is in the village of Solnhofen, which is known for the 10 Archeopteryx prehistoric birds that have been found here. The first feather was found in 1860, and the first Archeopteryx was found in 1861. In Solnhofen we visit the Bürgermeister Müller museum where we can see an orginal Archeopteryx fossil. We then visit the Jura Museum in Eichstätt to see more fossils . The rest of the day is spent at the Blumenberg Quarry near Eichstätt as we attempt to find our own fossils. We then drive to Munich for our last night.
Day 8 - Depart from Munich airport.