Scotland
The Birth of Geology
Edinburgh to Edinburgh
17-25 May 2018- *FULL* , 31 May - 8 June 2018 -
*FULL*
£1090
8-16 July 2019
£1145
Includes 2 Geoparks, 2 National Parks and 1 World Heritage Site
Exclusive small group tour, number of participants : 2-6
Prices are per person, based on 2 people sharing a room.
Single supplement applies please make contact for details.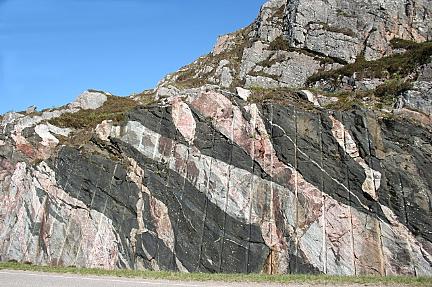 The multi coloured rock stop of the Laxford Brae road cutting, in the North West Highland's Geopark.
©Anne Burgess https://commons.wikimedia.org/w/index.php?curid=13507417
Interpretive boards at Glencoul, where a complete section of the Moine Thrust Belt can be seen. This was the first thrust fault in the world to ever be identfied.
©

Roger Davies https://commons.wikimedia.org/w/index.php?curid=13981236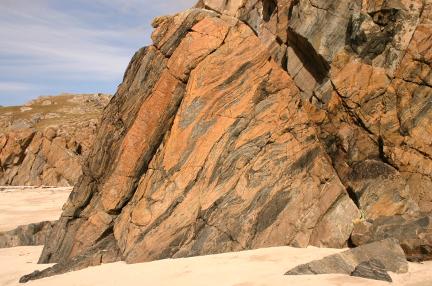 ©

Alan Partridge https://commons.wikimedia.org/w/index.php?curid=9259530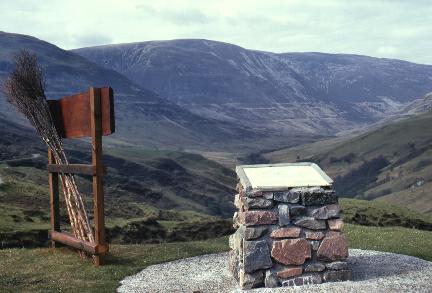 The parrellel roads of Glen Roy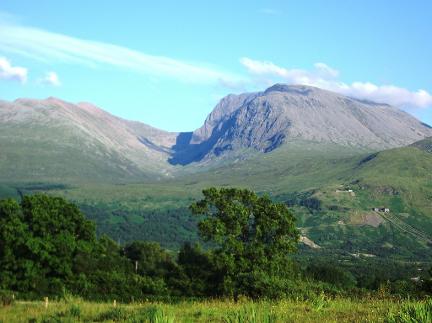 Ben Nevis the highest mountain in the United Kingdom and the Lochaber geopark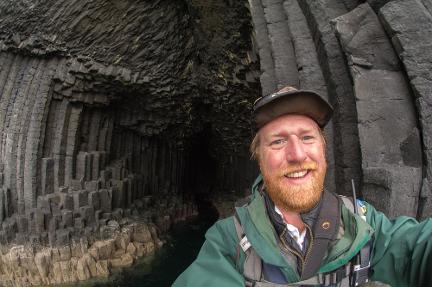 Your guide James Cresswell in Fingal's Cave, Staffa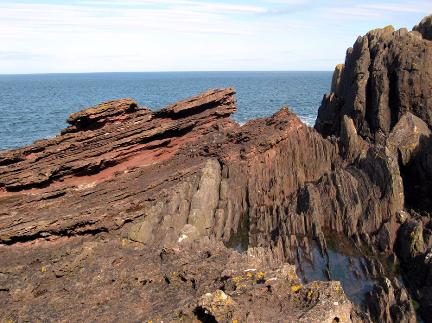 ©

Dave Souza https://commons.wikimedia.org/w/index.php?curid=3831554
INCLUDED
Geological guiding from an MSc Geoscientist, with bed and breakfast accommodation in 3 Star hotels or equivalent normally with en-suite bathrooms.
NOT INCLUDED
Transport including flights to and from Edinburgh, evening meals and lunches.
Itinerary - 9 Days
Day 1 - Arrive in Edinburgh, Capital of the Scotland. Our hotel is on the tram line 15 minutes from the international airport and 15 minutes from the city centre. It is also 200m from a train station.
Day 2 - Cairngorm National Park. Today we start our drive north towards Inverness. En route we view Schiehallion Mountain which is famous because in 1776 it was used in an experiment to estimate the mass of the earth. We then enter the Cairngorm National Park and continue to Aviemore where we can ride the funicular railway to the top of the Cairngorms for stunning views of the National Park. The night is spent in Inverness.
Day 3: North West Highlands Geopark. We spend the first half of the morning driving due north to reach the north coast of Scotland at Tongue. We then proceed to Arnaboll a historic geosite where thrust faults were first identified in the 1880s and the term "mylonite" was first used. We then move on to the village of Durness which is the most north easterly community in Britain. At Durness we descend down into the wonderful Smoo Cave which has been eroded out of limestones of Cambro-Ordovician age. Sango Bay directly in front of the village shows stunning faults and associated breccias. We then continue our drive through the Laxford Brae road cutting where the various, multi-coloured, different types of metamorphic rocks that were once different types of igneous rock can be seen. These rocks are up to 2.8 billion years old - some of the oldest in the world!
Day 4: North West Highlands Geopark. Our first stop today is Scourie More where we see more ancient metamorphic rocks that have not been modified since their formation over 2 billion years ago. We then journey on to Glencoul with some of the most gazed-upon views in Scottish geology. Here a complete section of the Moine Thrust Belt can be seen. The site was very important in first discovering the Moine Thrust Fault. We then journey on down the shores of Loch Assynt passing a dramatic unconformity where Torridonian sandstones are seen sitting on the much older Lewisian rocks. As we travel down this road to Lochinver we get wonderful views of Suilven and Canisp which have been voted as the UK's best geosite. Once at Lochinver, we continue for a few more miles to reach the beach at Achmelvich were the impressive pre-cambrain Lewsian geneisses can again be seen.
Day 5: North West Highlands Geopark and the Isle of Skye. Today we head south out of the North West Geopark. Before we leave the park though we stop at one of its most famous geoloactions Knockan Crag, where the Moine Thrust can again be seen. We then drive for the rest of the morning all the way to the Isle of Skye. Once on Skye we make our way to the village of Elgol where interesting intrusions into wet sediments can be seen and where we will take a 15:45 boat tour across to Loch Coruisk in the heart of the Black Cuillin. The night is spent at Kyle of Lochalsh.
Day 6: Loch Ness and the Lochaber Geopark. Today we leave Skye and head for the Lochaber Geopark. Our first stop is on the shores of Loch Ness where we learn about the Great Glen Fault and keep an eye out for the Loch Ness Monster! We then continue down the Great Glen Fault, past Loch Lochy to Spean Bridge. Here we take a 100m walk along a footpath to reach an iconic view of Ben Nevis, the UK's highest mountain. We then drive to Glen Roy. Here we view the famous parallel 'roads' which are in fact the shore marks of a glacier-dammed lake. We then drive through the town of Fort William and proceed to a location that has a splendid panoramic view of the Glencoe volcanic caldera. We drive up into Glencoe which is one of Scotland's most famous and most beautiful glens. Here we learn about the volcanic and glacial processes that created this wonderful spot as well as its more tragic history. Finally we end our day in the port town of Oban where we will spend the next 2 nights.
Day 7: Tour to Fingal's Cave, Staffa or a free day in Oban. Today you can either take it easy and spend the day in Oban, perhaps visiting its famous distillery, or you can join a 12-hour tour to Staffa. On the tour we will take a 07:40 ferry to the Isle of Mull which was once a volcano. We drive up the coast of Mull to the pretty town of Tobermory. Here we join a fast boat which passes the volcano of Ardnamurchan on its way to the legendary Staffa and Fingal's Cave. We land at the cave for about an hour and then visit the beautiful island of Lunga, which is made up of basalt lava flows and has incredible sea bird colonies. We then head back to Tobermory and arrive back in Oban at 19:45.
Day 8 : Loch Lomond and The Trossachs National Park, Siccar Point and Edinburgh. We start the day by driving through Loch Lomond and The Trossachs National Park. We then make several viewpoint stops before arriving back at our hotel on the outskirts of Edinburgh. After a short stop to drop our things at the hotel we continue past Edinburgh to the famous geosite Siccar Point. It is at this location in 1788 that James Hutton first started to understand the enormity of geological time, and that his most famous unconformity can be found. After spending some time at this geologist's hallowed ground we return to our hotel.
Day 9: Depart. It is recommended that you spend an extra night in Edinburgh to visit the city on your own time. The city centre is a World Heritage Site, built on 2 volcanoes and has the excellent geosites of Arthur's Seat, Edinburgh Castle and Our Dynamic Earth museum.