The Geotourism Travel Company
GeoWorld Travel specialises in explaining the scenery and landscape in an accessible way. While the scenery, mountains, glaciers, volcanoes and fossils are the star attractions of our trips; stunning scenery is usually accompanied by incredible wildlife and fascinating human stories, and our trips combine all of these things.
Whether you want to drive through the Moroccan Sahara discovering trilobites, marvel at the giant glaciers of Antarctica, witness the spectacular striped cliffs of East Greenland, trek in the mighty Grand Canyon, descend a diamond mine in South Africa, sample the geo-heritage of Wales or smell the volcanic landscape of Iceland, with GeoWorld Travel it is all possible...
"Having spent 9 years guiding on Polar Expeditions, I have seen that when the initial euphoria of the first wildlife encounters is fading, people want to understand more about the scenery and geology they are visiting. I have set up GeoWorld Travel to provide this extra dimension."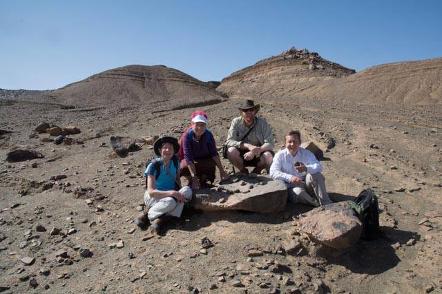 A group picture from our Morocco trip
Rock on!! Watch GeoWorld Travel's founder James Cresswell explain the scenery and geology of Antarctica to heavy metal band Metallica.
Selected Trips
Others also available
July 29 - Aug 6, 2016: All Wales: £809
July 29
- Aug 2

: Southern half - £413
Aug 2 - 6,: Northern Half - £413
October 31-Novemeber 10, 2016
£1465
Already has the minimum number booked