MOROCCO
The TRILOBITE'S SAHARA KINGDOM
Marrakech to Marrakech
12 - 22 November, 2018
*FULL*
£1465
11 - 21 November, 2019
£1535
Includes all meals, accommodation, guiding and transportation
Includes 2 World Heritage Sites
Exclusive small group tour, number of participants : 4 - 12
Journey by 4x4 across the Atlas Mountains to the Sahara desert in eastern Morocco, where the rocks are full of minerals and fossils. Morocco is one of the most geo-diverse nations on earth with enormous areas of exposed rock stretching, full of fossils and minerals, which stretch from the pre-Cambrian to the Recent. The country is dominated by the Atlas Mountains which drop down to a coastal plain on the western side and the Sahara Desert on the eastern side. Due to the arid conditions, much of surface is not vegetated making it very easy to observe the rocks and understand the geology. Travel with GeoWorld Travel on desert routes that once hosted the Paris - Dakar Rally, to see incredible wonders: folded rocks, towering sand dunes, metal mines and site upon site where trilobites, ammonites, sharks teeth and even dinosaur remains can be found. On top of this Morocco has amazing cuisine, usually served up in a Tagine! It is a meeting point of cultures where Africa and the Arab World meet Europe. The old city of Marrakech, a World Heritage Site, is the starting and finishing point of many of our tours .
Crossing the High Atlas Mountains
Precambrain stromatolites
Trilobites in Ordovician sediments
Pyrotised Devonian goniatites
Ordovician sediments rich in trilobites in the Draa Valley
Large yellow Cambrian trilobite
Ammonite at Erfoud quarry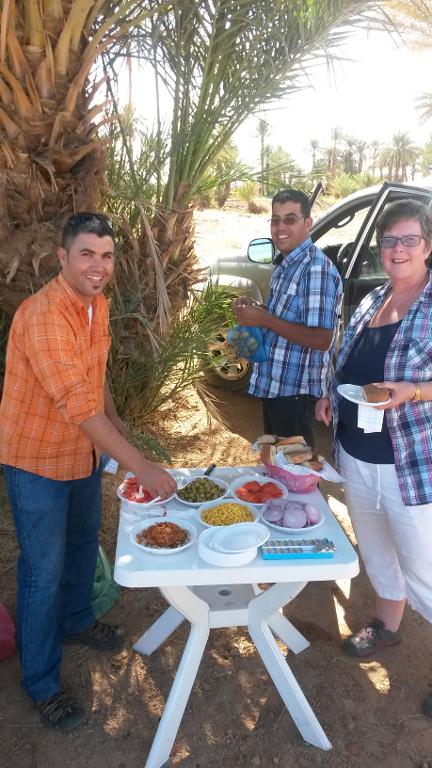 ITINERARY
This is a provisional itinerary; the final itinerary may vary slightly, simply because there are so many different sites that it is possible to visit. Be rest assured though, this is a real trip visiting the very best field sites and not simply a tour of gift shops and museums.
Day 1 - Arrival in Marrakech with transfer from the airport to our hotel. This historic city is a World Heritage Site and has excellent low-cost airline links to Europe.
Day 2 - Sidi Rahal, High Atlas and Ait-Ben-Haddou. Today we have a long way to travel and must cross the High Atlas Mountains to reach the diverse geology of the eastern part of Morocco. Our journey is broken at the Sidi Rahal mine which is rich in quartz chalcedonies, amethyst and agate. We have the opportunity to learn how these minerals were formed and to find pieces for ourselves. There will then be a picnic lunch with the miners and a chance to learn about their lives. In the afternoon we take a road that climbs and climbs until we reach the Col du Tichka at 2260 m. Even though Morocco is a hot country this pass can sometimes get blocked with snow in the winter. The road then descends through beautiful valleys and wonderfully folded rocks and we stop at a salt mine. Next stop is the World Heritage Site Kasbah of Ait-Ben-Heddou before reaching the town of Ouarzazate, where we spend our first night. This is a very pleasant town and is famous for its film studios which have hosted films like 'The Mummy' and'Fly fishing in the Yemen'. Our accommodation here is a three-star hotel.
Day 3 - Pre-Cambrain Stromatolites and Draa Valley Ordovician Trilobites. This morning we start our day by heading down the Draa Valley. This beautiful valley contains an oasis at is base which is full of date palms and is flanked by valley walls made up of Ordovician sedimentary rocks that are full of trilobites. Near to Zagora we stop at Ben Zoli where it is possible to see pieces of very large Ordovician trilobites. After a good look at the site we will have a picnic lunch under the shade of a tree before a beautiful drive to a place called Serradrar. This is a site of exceptional preservation of Orthoceras, which were marine gastropods. Today the slabs of rock containing Orthoceras are quarried and are produced into table tops and basins that are seen in virtually every hotel in Morocco. We will visit one of these quarries and see for ourselves the amazing sight of the Orthoceras in situ in the rocks. The next stop is the small town of Alnif which prides itself as being the 'Trilobite Capital of the World'. The town has several fossil shops and museums and we will spend the night here in a small hotel.
Day 4 - Cambrian Trilobites and Ordovician Jbel Tiskaouine. This morning's site is near to the town of Alnif and is in an area of Cambrian sedimentary rocks. Here it is possible to see huge yellowish trilobites. After a morning of discovering the fossils we will have our picnic in a nearby oasis, followed by a visit to an Ordovician site called Jbel Tiskaouine in the afternoon. This site is rich in calymenes and flexycalymenes. We spend tonight at the same hotel in Alnif.
Day 5 - Devonian Trilobites of Jbel Isoumour and Maader. Today we visit Isoumour which is famously known as the 'trilobites lost paradise'. Nearly all the species of Devonian trilobites can be found here, including rolled phacops. After our picnic lunch we head onto another Devonian site called Atchana which is a flat, rather than a hillside, and again many trilobites can be seen here. We then proceed to a place called Lakrabis where it is possible to find red goniatites. After this site we journey further south to spend the night in a remote desert oasis called Mharch.
Day 6 - Devonian Maader trilobites and Erg Chebbi Dunes. Today we travel across the desert towards the small town of Mecessi to visit a site called Lalla Mimouna, where it is also possible to find Devonian trilobites. We will then drive to nearby Jbel Mdawar where we can see Devonian goniatites and have our lunchtime picnic. In the afternoon, we head to Merzouga and the famous sand dunes of Erg Chebbi. Here we really feel we are in the Sahara Desert - because we are! If you wish, you can even ride a camel here. We spend the night in a comfortable hotel in Merzouga.
Day 7 - Kem Kem Dinosaur site and Mineral mine. Today we drive south through the sand dunes to the frontier town of Taouz. We then head to the famous Kem Kem site which is rich in fish, crocodiles and dinosaurs. Many teeth and bones of Spinosaurus have been found here as have the larger teeth of the Tyrannosaurus-like dinosaur Carcharodonosaurus. The deposits were laid down in by a river in the late Cretaceous. We then relocate to another site on the Ordovician and Silurian boundary where echinoids and crinoids can be seen. Our picnic is at the site of an old lead mine named Filon, where you can see many special mineral specimens including vanadinites, quartz and goethite. The night is spent at the same hotel in Merzouga - an excellent place to observe the stars.
Day 8 - Kes Kes and Erfoud. Today we visit the Kes Kes which are Devonian cold seep mud volcano mounds on which rich coral reefs grew. We then visit a site where crinoids are mined in bell pits before reaching Erfoud quarry where orthoceras slabs with goniatites are quarried. After a picnic we head to the town of Erfoud where we visit the museum and the Orthoceras factory. The night is spent back in the hotel in Merzouga.
Day 9 - Tohdra Gorge. Today we journey from Merzouga back to Ouarzazate, stopping at the Tohdra Gorge. This amazing site cuts down through Jurassic layers at the edge of the High Atlas.
Day 10 - The Medina of Marrakech. Today we drive back to Marrakech, arriving at lunch time, which leaves a free afternoon for shopping in the World Heritage Site souk. The night is spent in a kasbah in the Medina.
Day 11 - Departure from our hotel to the airport by taxi.
included
Geological guiding from James Cresswell
Local guide and driver
Hotel accommodation
Dinner and breakfast in the hotels
Picnic lunch
Bottled water on day excursions
Transportation in Landcruiser
not included
Flights
Alcohol and soft drinks
Bottle water in hotels
PICTURES AND REVIEWS FROM PREVIOUS TRIPS
"This was an outstanding tour. 2 months later I still keep thinking of the trip into the Sahara with fossils at every stop. The value for money, accommodation and food were all excellent. The other guests ranging from top academics to the village idiot (me) were all most sympathetic and supportive.Everything was explained to me in the simplest terms. Now I just love Stromatolites, Trilobites and Ammonites. Little touches like the drivers choice of wonderful West African music and the comfort of the 2 Land Cruisers really helped make the trip memorable. The Moroccan landscape is superb and the Berber people most welcoming. If you see the latest Mission impossible and/or James Bond movies you will get a taste of the brilliant Moroccan Sahara.
Highly recommended."
Richard Gollin, Isle of Lewis, Scotland. - December 2015
"A brilliant trip with fascinating fossil sites amid stunning Moroccan scenery. Transport organised with two impressive local drivers who also loved the off-road aspects; comfortable hotels at each stop with real treats at the furthest flung; meals all included from hotel breakfasts and dinners to tree-shaded picnics in the fantastic middle of nowhere; geological knowledge and guidance from our tour leader, and most other group members too; and a lovely group of fellow enthusiasts, all finding fossils galore. An excellent trip James! "
Hilary Smith, Hove, England - November 2015
"A superb trip - the sort I would have designed for myself except I'd not have had the local knowledge or contacts to make it a reality. Comfortable accommodation, a great guide (James) and a friendly and expert driver (Yusef) who both put themselves out for us. We visited some wonderful locations, from an Atlas salt mine to pre-cambrian stromatolites, trilobite beds and desert dune fields. The only let down, and the only thing I wouldn't want to do again was eat the chicken in our last hotel in Marrakech, which made me very ill for 2 days after getting home. Not GeoWorld's fault at all, but the lesson is, stick to the local food, which they know how to cook!"
Colin Wilkinson, Banbury, England - January 2014
"Having an 8-day trip through Morocco is basically impossible. However, GeoWorld managed it anyway! In a fast run we've seen 14 fossil rich sites, with a knowledgeable guide and a perfect driver. Enough room for sightseeing, especially the very impressive landscapes. If you have the opportunity, take the 10-day tour. It will make your trip a bit more relaxing. I would. The four of us have enjoyed this trip a lot. Absolutely worth every penny!!"
Mike van Alst,The Netherlands - May 2013