Trips that feature the History of Geology include:
CANARY ISLANDS
Volcanic Island Hopping - Visits the Taburiente Caldera, an ersosional caldera, which is the first place in the world to be named caldera.
ITALY
The Classic Volcanoes - We visit Vesuvius, Stromboli, Vulcano and Etna. These are the volcanoes with the longest record of observation in the world, and the study of them has made a huge contribution in to the development of the science of vulcanology.
SCOTLAND
The Birth of Geology - visits Siccar Point perhaps the most famous geosite in the world, where James Hutton first realized the enormity of geological time, the Moine Thrust, the world's first recognized thrust fault, and Schiehallion Mountain where the first attempts to calculate the mass of the Earth where made.

southern BRITAIN
Jurassic Coast, Wales & the Complete Geological Timescale - Wales lends its name to the Cambrian, Ordovician and Silurian periods and the County of Devon in England lends its name to the Devonian Period.
WALES
Day Trips - Our Fforest Fawr Geopark day tour visit Llandovery which lends its name to the Llandovery Epoch of the Silurian Period.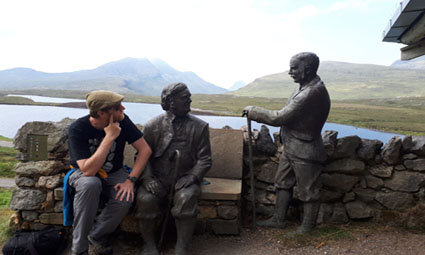 GeoWorld Travel's Director James Cresswell at Knockan Crag in Scotland with statues of Ben Peach and John Horne, who discovered the world's first known thrust fault - The Moine Thrust.