England & Wales
Jurassic Coast & the Complete Geologic Timescale
london TO Chester
25 April to 6 May 2021
4 to 15 July 2021 (to be confirmed)
£1,995
Includes 4 World Heritage Sites, 3 UNESCO Global Geoparks, 2 National Parks
and rocks from every (Phanerozoic) Geological time Period
Exclusive small group tour, number of participants : 4 - 8
Includes: Bed and Breakfast accommodation, transportation, geological guiding and all entrance fees.
Prices are per person, based on 2 people sharing a room. Single supplement applies - please make contact for details.
Britain is one of the world's most geodiverse destinations, where is possible to see rocks of almost every geological time period. It is no wonder that the foundations of geological science were built here. Whilst the Highland Controversy raged in Scotland, the Devonian Controversy raged in England, leading to the naming of the Devonian Period. In addition, Wales not only lends its name to the Cambrian period, but also the Ordovician and Silurian periods too! On this special trip you will have the chance to search for Jurassic fossils in Lyme Regis and Ordovician trilobites in Wales, you will see Jurassic and Triassic dinosaur trackways, you will descend a coal mine and a prehistoric copper mine, and you'll even take a train ride to the summit of Wales's highest mountain. As well as all of this, you will also be able to walk behind South Wales's highest waterfall, wonder at the oldest tree in Europe, touch rocks that were formed in a subduction zone and visit many places whose names are now known throughout the world as geological periods of time.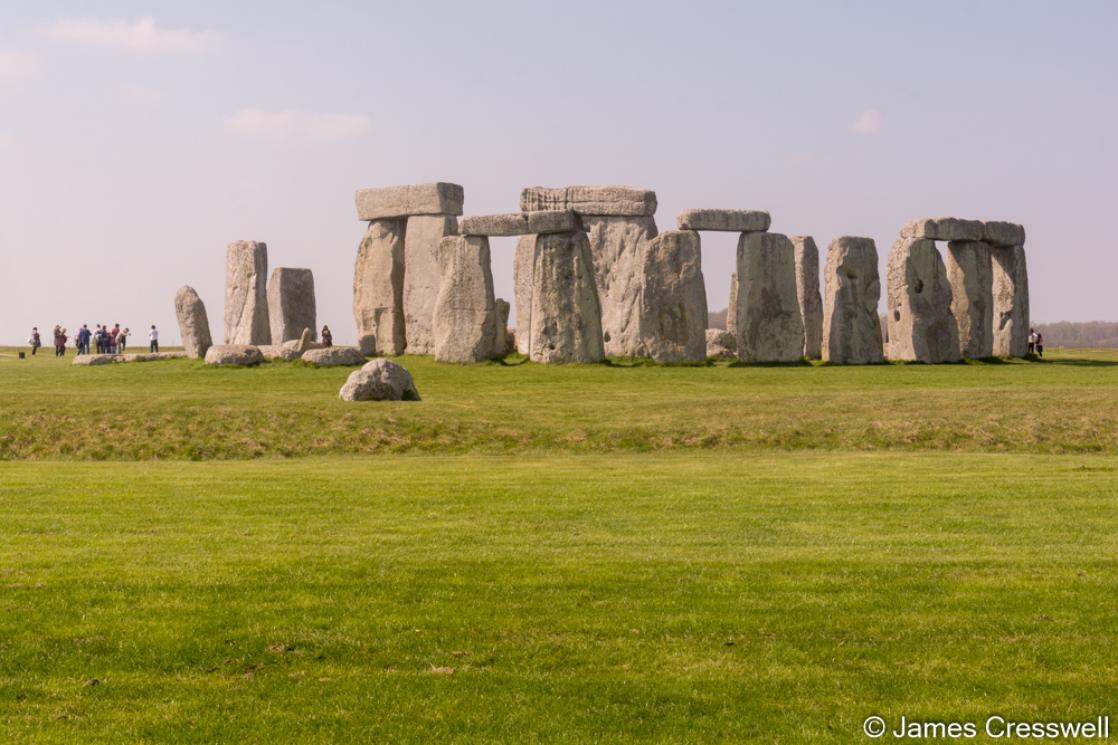 Stonehenge World Heritage Site (Day 2)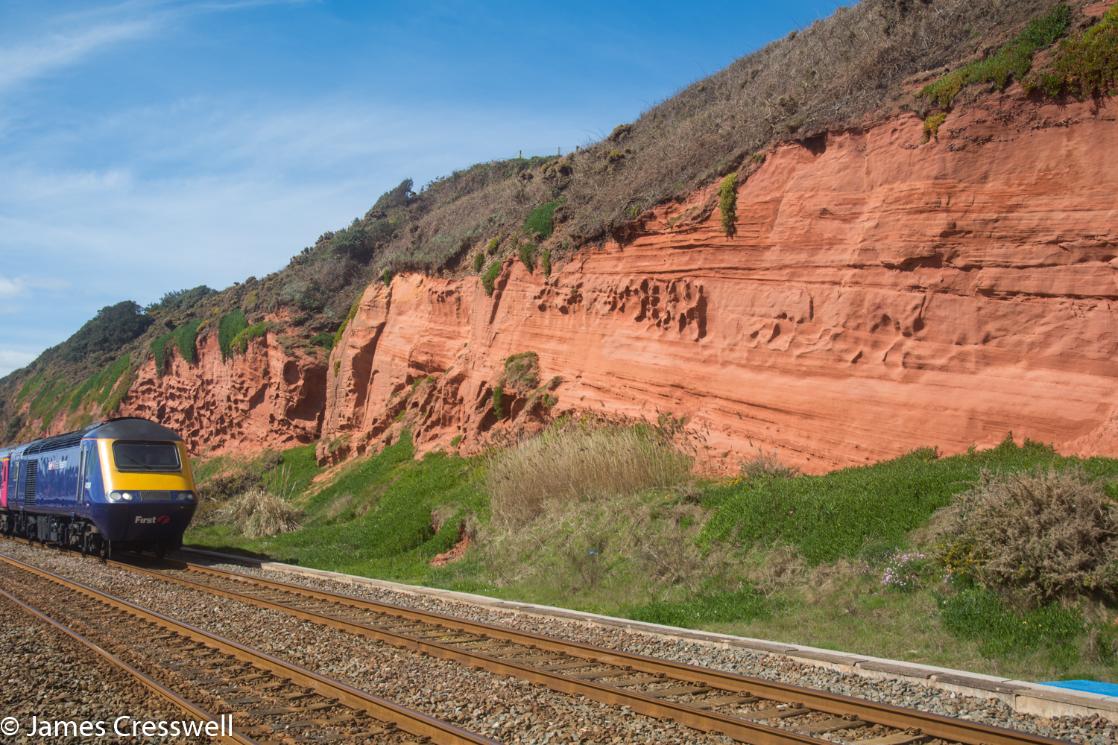 Permian aged fossilised sand dunesat Dawlish in Devon (Day 3)
The ammonite graveyard on Monmouth Beach, Lyme Regis on the Jurassic Coast (Day 3)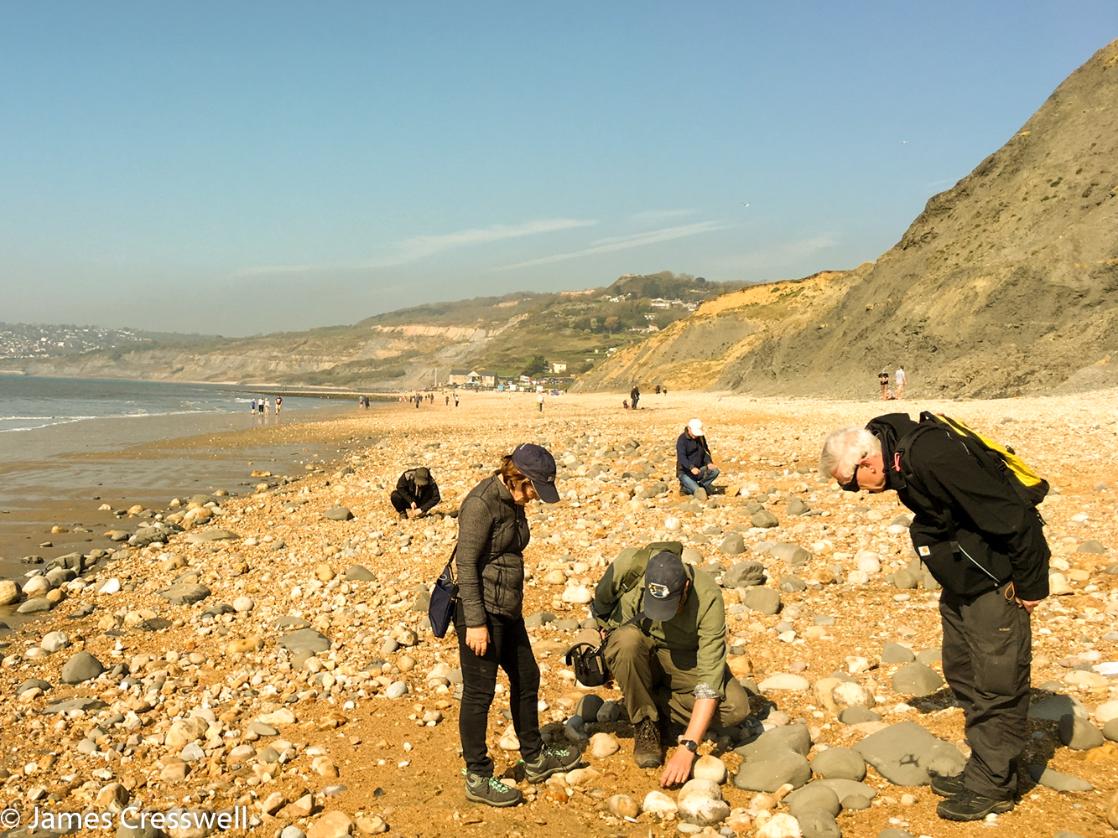 Looking for fossils on the famous Charmouth Beach in the Jurassic Coast World Heritage Site (Day 3)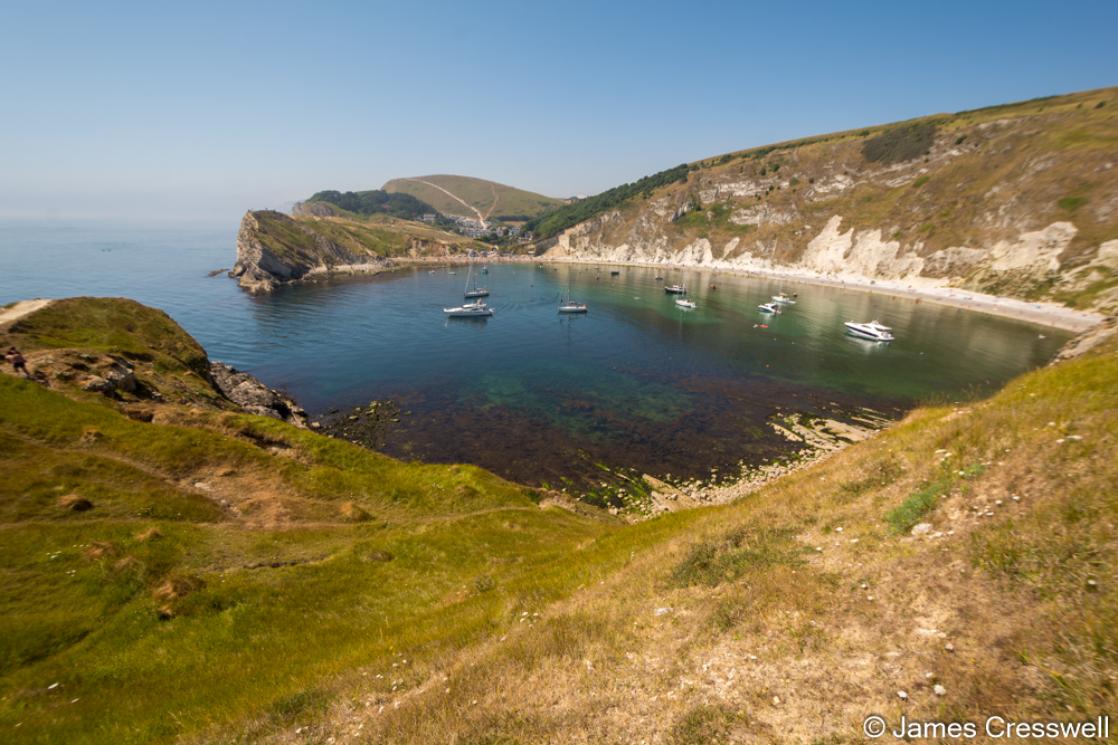 The perfectly round bay of Lulworth Cove on the Jurassic Coast (Day 4)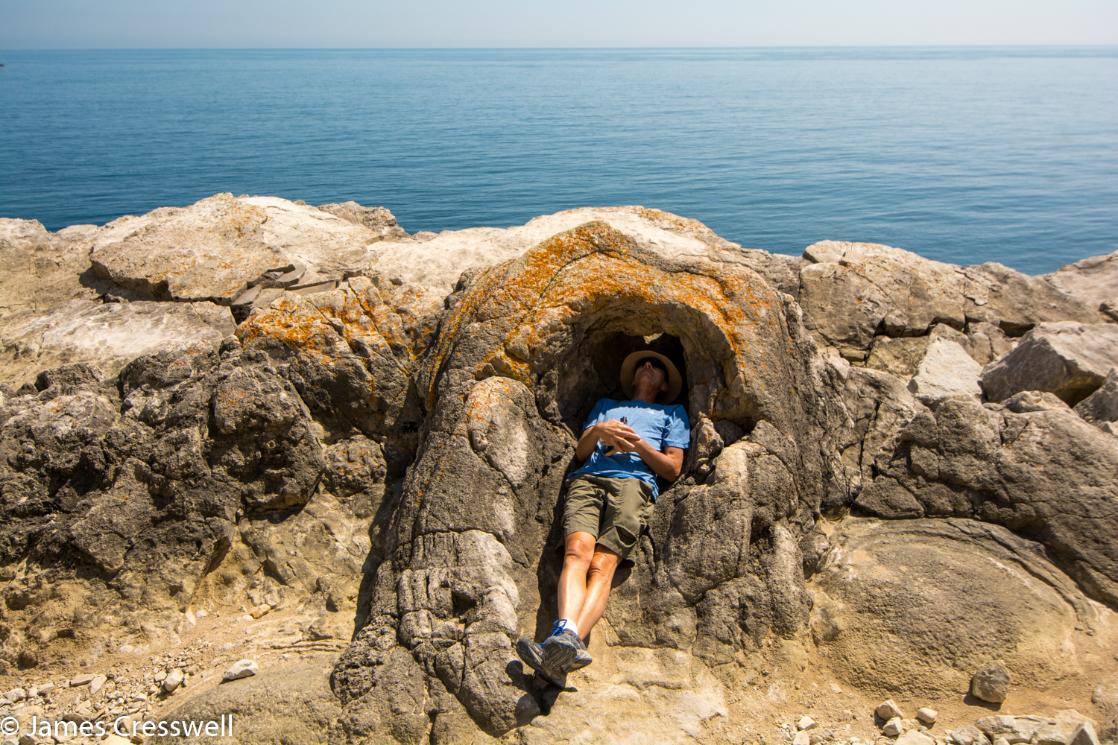 One of our participants lying inside a fossilised tree at the Lulworth Fossil Forest on the Jurassic Coast (Day 4)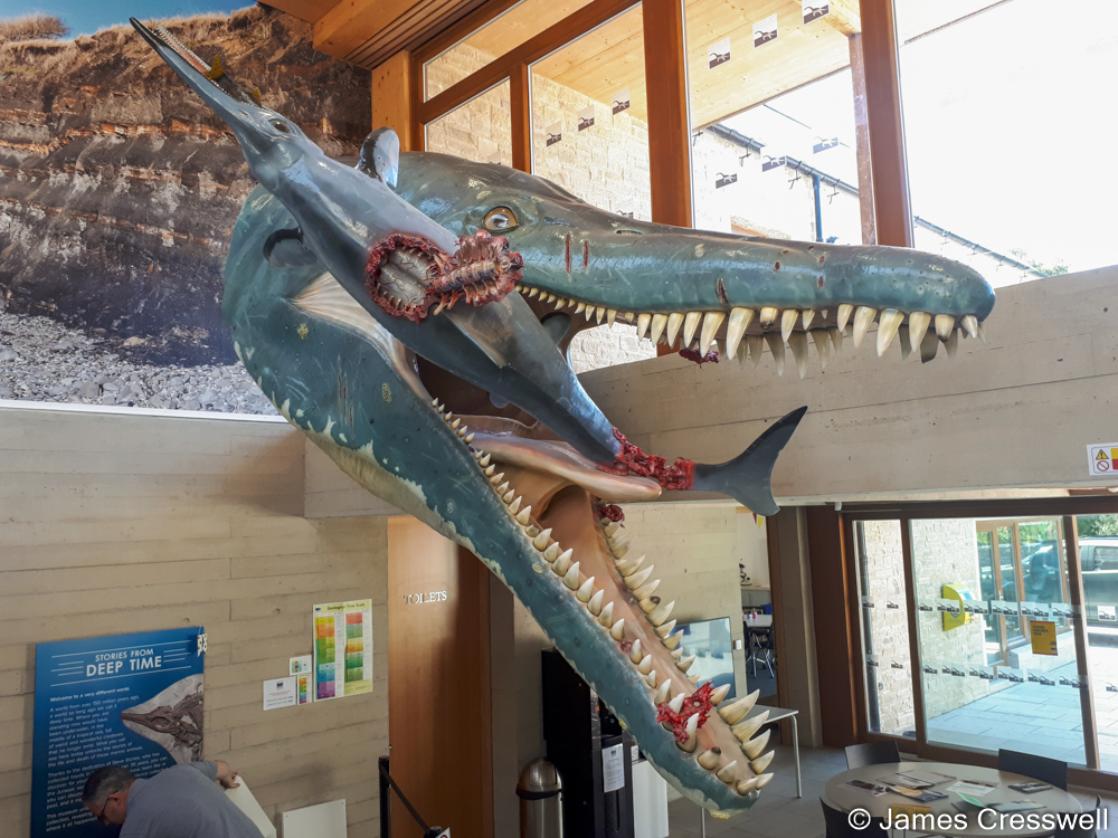 Pliosaur model in the foyer of The Etches Collection museum (Day 4)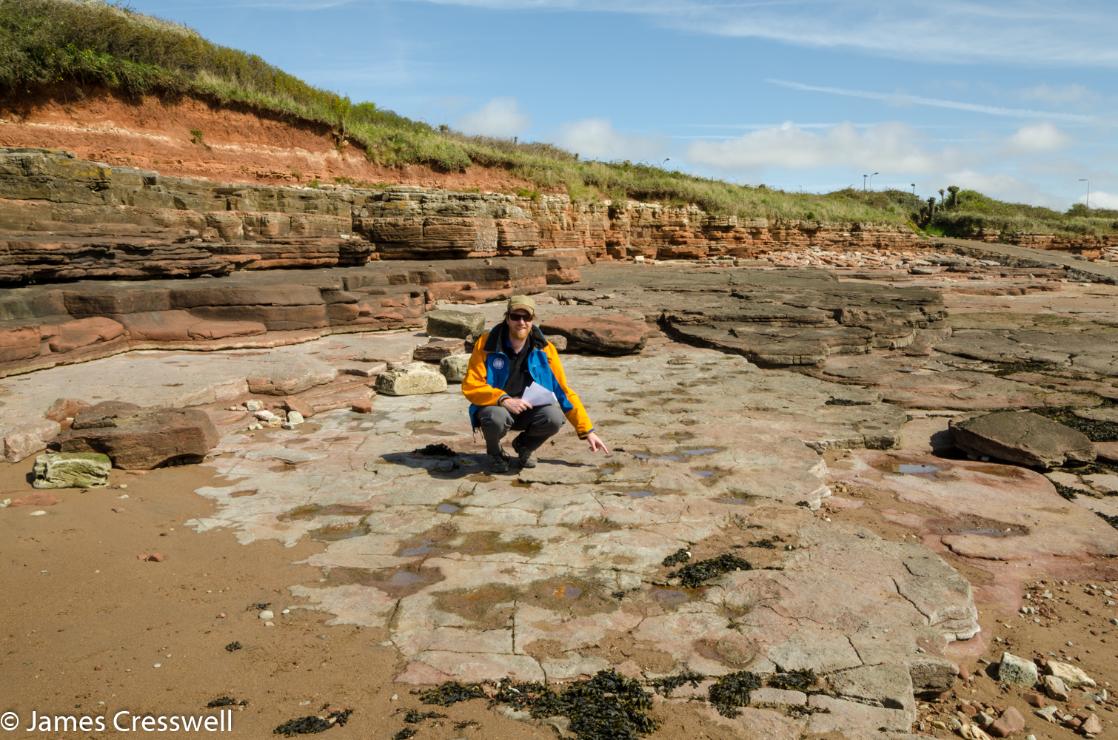 James Cresswell pointing to dinosaur tracks on the Glamorgan Heritage Coast. These tracks are the best Triassic dinosaur trackway in Europe (Day 6).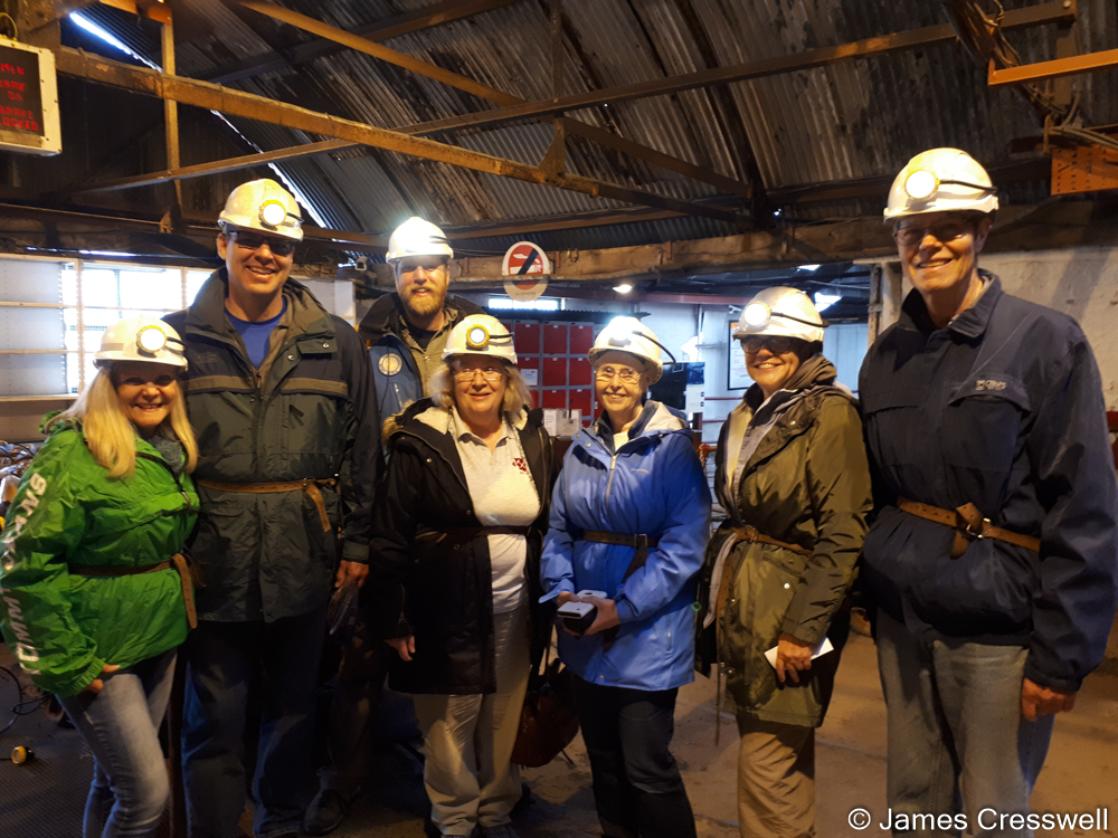 Our group in hard hats ready to descend the Big Pit in the Blaenavon World Heritage Site for an underground coal mine tour (Day 7)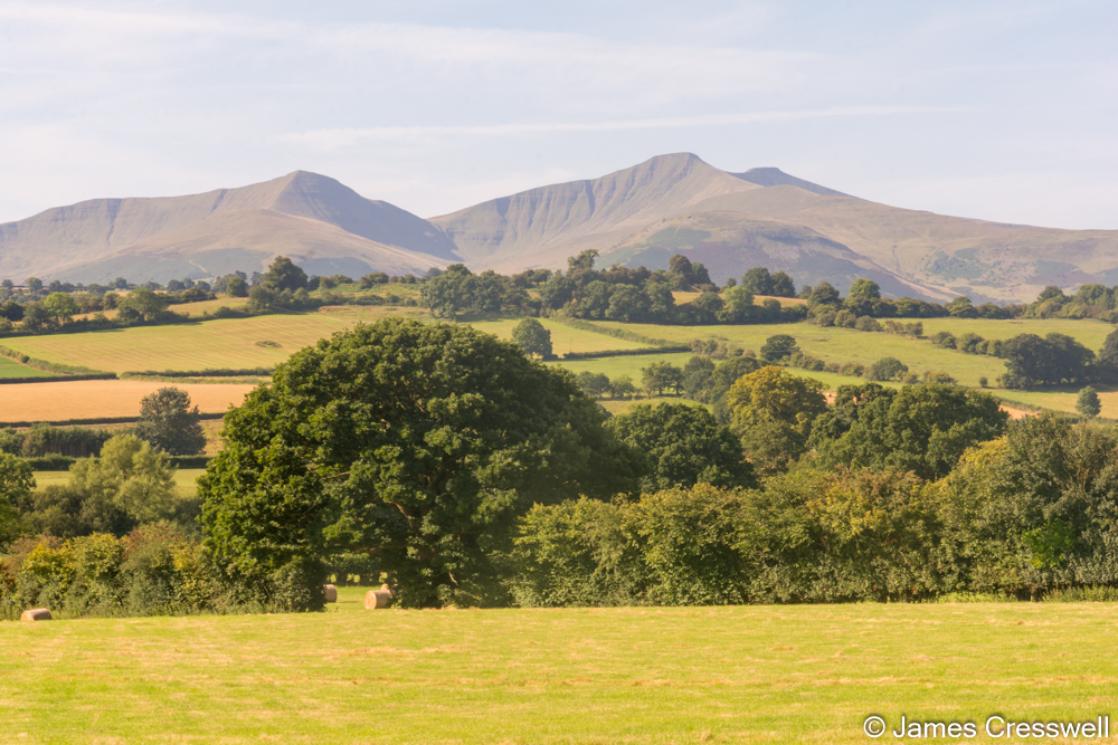 The Brecon Beacons inthe Fforest Fawr Geopark. These peaks are the highest in southern Britain and are made of Devonian aged rocks (Day 7)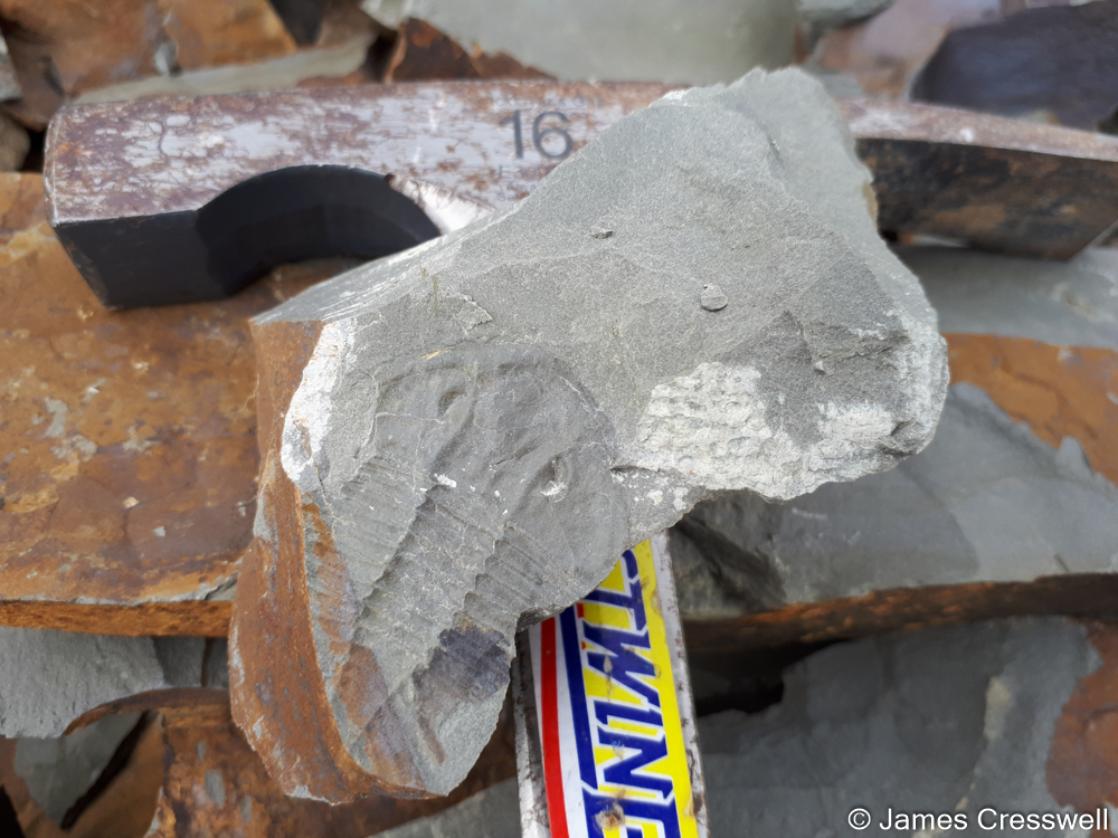 Find your own Ordovician trilobites on near Llandrindod Wells (Day 8)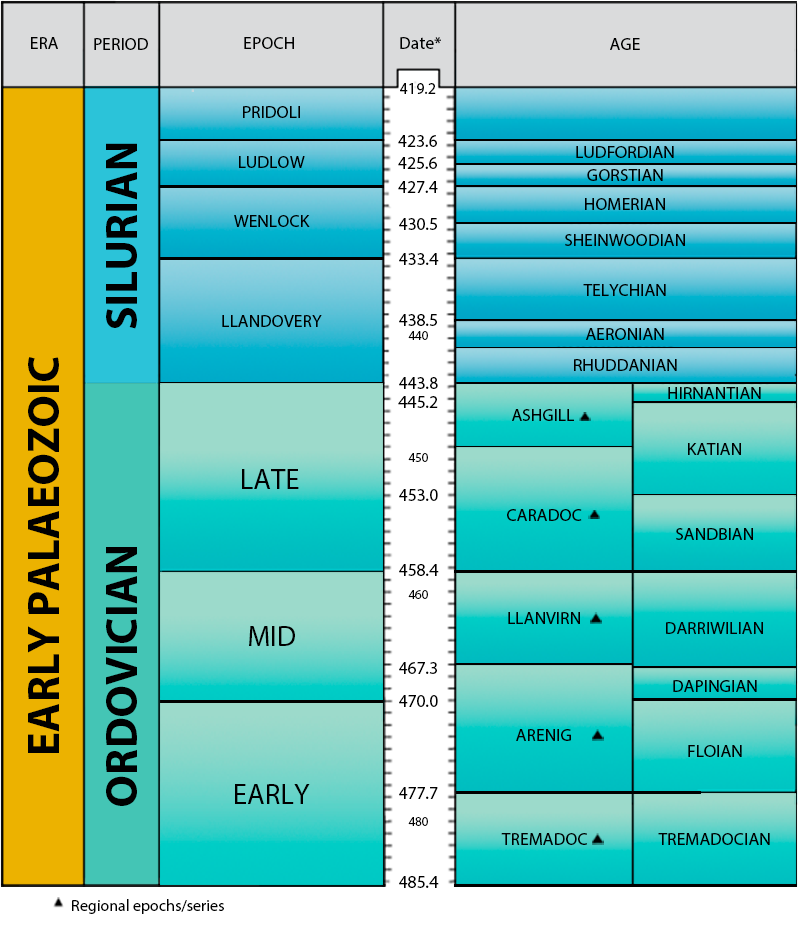 The Ordovician and Silurian Periods were named after the Welsh Ordovicies and Siluries tribes. The Llandovery, Wenlock and Ludlow Epochs of the Silurian are named after places we visit on this trip and are used as the current terms globally by the International Stratographic Commission. We also visit Tremadoc, Arenig and Caradoc, these Epochs are no longer used internationally but are still used a British regional epochs of the Ordovician.
On the Long Mynd, looking across to Caer Caradoc, South Shropshire Area of Outstanding Natural Beauty. (Day 8)
Darwin's Boulders in Cwm Idwal, Snowdonia National park (Day 10)
The train ride to the summit of Snowdon, the roof of Wales! The rocks are the remains of an Ordovician volcano. In the background the Dinorwic quarry in Cambrian aged Slate can be seen. (Day 10)
Parys Mountain, once the largest copper mine in the world (Day 11)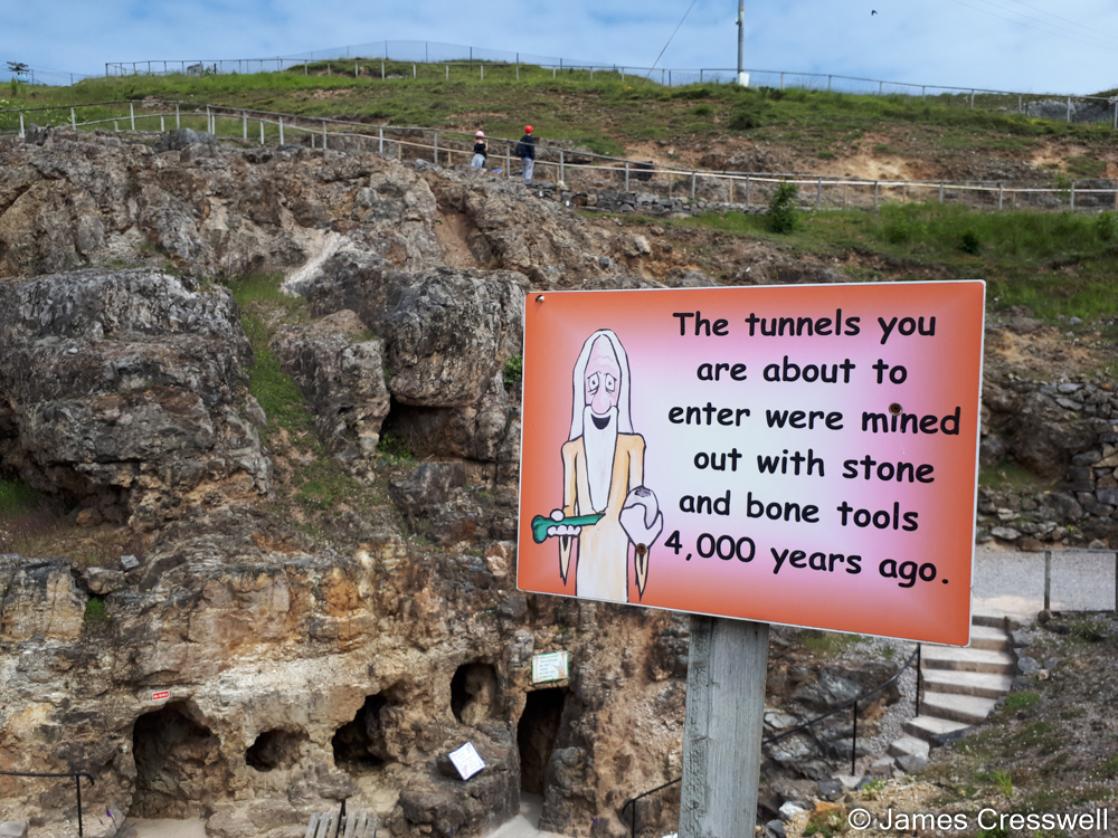 Great Orme, Bronze Age copper mine (Day 11)
Itinerary
Day 1 - Arrive in London. We will meet at a London Heathrow Airport hotel at 18:00 where we will spend our first night. If you have not visited London before we recommended that you spend a few extra days exploring the capital city either before or after the tour. Geological sites of note in London include: The Natural History Museum, which has one of the finest geological and palaeontological collections in the world. The Geological Society, where William Smith's original geological map is displayed. Westminster Abbey, which contains a range of decorative stones from Britain as well as those quarried from Roman building stones which include Porphyry and Egyptian Gabbro. The Thames Barrier which prevents London from being flooded by exceptionally high tides and storm surges. In addition, London has four World Heritage Sites (The Tower of London, the Palace of Westminster, Kew Gardens and Maritime Greenwich), which are all well worth a visit.
Day 2 - Stonehenge World Heritage Site and The English Riviera Geopark. In the morning we drive to Stonehenge World Heritage site, a prehistoric ring of standing stones set within earthworks. The inner stones, called the Bluestones, are Ordovician dolerite which come from the Preseli mountains in west Wales. The Altar Stone is from the Brecon Beacons, also in Wales and visited later in the trip. The large Sarsen stones were from a source local to Stonehenge. After lunch at Stonehenge we drive on to the English Riviera UNESCO Geopark, in the county of Devon. Here we visit Kents Cavern. This cave is carved out of Devonian-aged rocks; here we first discuss the Devonian Controversy, learning how the County of Devon lent its name to the Devonian period, then we enter the cave. The cave is one of Britain's key paleolithic sites, as it is the discovery site of many Ice Age cave bear fossils, and a jaw bone from what could be the oldest modern human fossil to be discovered in north-west Europe. We then spend the night within the geopark in the Victorian resort town of Torquay.
Day 3 - Permian desert dunes and Lyme Regis in the Jurassic Coast World Heritage Site. Our first stop is to see spectacularly preserved Permian-aged fossil desert dunes in the town of Dawlish. Our next stop is Monmouth Beach in Lyme Regis where we will spend the remainder of the morning, viewing giant ammonites and the 'ammonite graveyard'. We then have lunch beside Lyme's scenic harbour wall (The Cobb), before spending the whole afternoon on Lyme's eastern beach. This beach is perhaps the most famous fossil beach in the world! Its is here that Mary Anning, Lyme Regis's most famous daughter, described as 'the greatest fossilist the world ever knew', found her famous icthyosaur and plesiosaur fossils. We will scour the same beach, searching for our own fossils. The rocks that make up the cliffs are Jurassic in age. Ammonites and belemnites are most commonly found, but with luck, ichthyosaur bones can occasionally be found. We will then sleep in Lyme Regis.
Day 4 - Lulworth Cove, the Etches Collection and Dinosaur Footprints, in the Jurassic Coast World Heritage Site. Today we take a day trip from Lyme Regis to the eastern area of the Jurassic Coast. Our first stop is a viewpoint above Chesil Beach, Britain's longest barrier beach. The next stop is the famous Lulworth Cove, where the sea cuts through the harder Jurassic Purbeck limestone to the softer Cretaceous chalk behind, which has eroded to form a perfect bay. At this site we can also see folded Jurassic rocks that form the Lulworth Crumple. There is the option of a 3-mile round-trip hike to view the Fossil Forest. After lunch in the cove, we drive to the village of Kimmeridge; this village lends its name to both the Kimmeridgian stage of the Upper Jurassic and to the Kimmeridge clay which has yielded many important fossils and is the source rock for North Sea oil. In Kimmeridge we will visit The Etches Collection Museum of Jurassic Marine Life, which contains over 2000 specimens that were found in the Kimmeridge Clay - including the world's first known ammonite eggs! We then move on to a recently discovered sauropod dinosaur trackway. Our final stop is to see some Paleogene sands near Wareham before we then drive back to Lyme Regis for a second night
Day 5 - Free time in Lyme Regis, Glastonbury Tor and Cheddar Gorge and Caves. We awake again this morning in Lyme Regis and before setting off we have two hours free time to allow you to visit both the Dinosaur Land Fossil Museum and the Lyme Regis Museum, where you can learn all about fossilling legend Mary Anning. There are also several fossil shops to visit. We then drive to Cheddar Gorge. En route we pass a great view of Glastonbury Tor. Here we stop for photos and learn how the tor is possibly the island of Avalon of Arthurian legend. We then also pass by Glastonbury Abbey which is the possible burial place of King Arthur. At lunchtime we arrive in the famous village of Cheddar, where the cheese originates. Cheddar is also home to several caves and the spectacular Cheddar Gorge. After lunch we visit the gorge which is cut into Carboniferous limestone and Gough's Cave. The cave is the discovery site of Britain's oldest complete human skeleton: Cheddar Man, about 9,100 years old. We then drive on, crossing the Severn Estuary, which has the second highest tide range in the world, via the Prince of Wales Bridge to reach Cardiff, the Capital of Wales. The Latin name for Wales is Cambria, and it is after Wales that the Cambrian Period is named. We spend the next 2 nights in Cardiff.
Day 6 - Welsh Dinosaurs, the National Museum of Wales, and free time in Cardiff. We spend the morning outside Cardiff visiting two dinosaur sites. Our first stop is the best Triassic dinosaur trackway in Europe, situated just outside the town of Barry. There are several different sizes and kinds of footprints in the rocks here. Small, three-toed footprints were probably made by small, meat-eating (theropod) dinosaurs which walked on their hind legs. Large three-toed footprints may belong to a larger theropod. Some wider, four-toed footprints may belong to a plant-eating dinosaur which usually walked on all fours. These are the footprints of some of the earliest dinosaurs in the world. At this time, 220 million years ago, dinosaurs had not long evolved from other crocodile-like reptiles and these ancestral animals were still present. Our next stop is Lavernock Point. Here the Triassic/Jurassic boundary can be seen; there are many ammonites in the hard layers and, recently, a new species of Welsh dinosaur was discovered here - we can touch the exact place that the dinosaur was excavated! The dinosaur was found just a few centimeters above the Jurassic/Triassic boundary, making it the oldest known Jurassic dinosaur in the world. We then head back into Cardiff, and have a free afternoon. In this time it is suggested that you visit the National Museum of Wales, which has an excellent Geology of Wales exhibit, including the recently discovered Welsh Dinosaur fossil. You may also have time to visit Cardiff Castle which is partly Norman and partly Roman. We spend a second night in Cardiff.
Day 7 - Blaenavon Industrial Landscape World Heritage Site, Brecon Beacons National Park and the FForest Fawr Geopark. Our first stop of the day is the Blaenavon World Heritage Site. Here we can descend the Big Pit coal mine joining an underground tour led by former miners. We also visit the the Blaenavon Ironworks where steel was first made from high sulfur iron ore, enabling the Industrial Revolution to begin around the world (James's great-great-grandfather was the General Manager here when this breakthrough was made!) We then enter the Brecon Beacons National Park and drive through the village of Gilwern where GeoWorld Travel is based, here we see a historic lime kiln and canal before moving on Fforest Fawr UNESCO Global Geopark. En route we pass through the town of Merthyr Tydfil which once had the four largest ironworks in the world. Our first stop in the Geopark is a Variscan fold called Bwa Maen. Here, we also see the Neath Valley Disturbance fault, the Sychrhyd waterfall, an adit of a former silica mine and, legend has it, the resting place of King Arthur's Army. Nearby we pause to see some fossil trees. This is followed by a visit to South Wales' highest waterfall: Sgwd Henrhyd. This waterfall caused by faulting flows over a thick sandstone bed, called the Farewell Rock because it is the lowest bed of the South Wales Coal Measures. We then pause at the entrance to Britain's deepest cave and discuss how the Fforest Fawr Geopark hosts North West Europe's largest cave system. We then move on to a yew tree in a graveyard which has recently been dated to be the oldest tree in Europe. This tree is 13 miles east of the town of Llandovery, which lends its name to the Llandovery epoch of the Silurian, further more the 'Golden Spike' of the Telychian stage of the Llandovery epoch is just outside the town. Rather than visiting the town we instead discuss it from a magnificent view point where all 4 mountain ranges of the Brecon Beacons National Park can be seen. This viewpoint is on a hill that is named after St Illtyd who was said to be King Arthur's cousin. Our final stop of the day is Llangorse Lake, the largest natural lake in Wales. The lake was formed in the last ice age and on a made made island within the lake was once the palace of the local kings. The night is spent in a B&B in the Brecon Beacons National Park, that is run by James' parents. We will have a special family meal together there.
Day 8 - The naming of the Ordovician and Silurian Periods, trilobites and Precambrian rocks. Our first stop of the day is the Gilwern Hill Trilobite Quarry, this site is the best place in Great Britain to find trilobites! We spend several hours here finding and collecting our own fossils. This is a real highlight of the tour! We then move on to Stanner Rocks to see the oldest rocks in England and Wales. These Precambrain rocks are 700 million years old and lie right on the English/Welsh border. A short distance across the border into England we pause at the discovery site of the Herefordshire Lagerstätte. Here we discuss how it is one of the most important fossil sites in the world, before moving on to Ludlow. Yesterday we heard about Llandovery, and today we visit both Ludlow and Wenlock - all three places lend their names to epochs of the Silurian Period. In Ludlow we stop to see the famous Bone Bed and to discuss Murchinson's Silurian System. The next stop is Caer Caradoc, the site of a battle between the Siluries and Ordovicies tribes against the Romans; these tribes lend their names to the Silurian and Ordovician Periods. Caradoc is also a British regional epoch of the Ordovician Period. We then spend some time looking for our own fossils on Wenlock Edge. The world famous "Wenlock Limestone outcrops" are amongst Britain's most important geological sites and demonstrate the best examples of reef development during the Silurian Period in Britain. We then spend the night in the town of Shrewsbury, the birth place of Charles Darwin.
Day 9 - The Central Wales Ore Field, Welsh Gold and The Castles and Town Walls of King Edward in Gwynedd World Heritage Site. First thing in the morning we visit the birth place of Charles Darwin who was born in Shrewsbury. We then cross back into Wales and visit the Brynteg Lead Mine where mineral samples can sometimes be found in the spoil heaps. Here we discuss how Wales once had an important lead and silver mining industry. We then journey on via several great view points, to enter Snowdonia National Park near Cadair Idris Mountain. Here we get distant views of former Welsh Gold Mines high up on the hills. The gold of the British Royal Family is derived from Welsh Gold. Next we drive through Tremadog which lends its name to the Tremadocian epoch of the Ordovician before reaching the town of Caernarfon. Here we have free time allowing you to visit the Castle, which is perhaps Wales's most famous castle and is part of the Castles and Town Walls of King Edward in Gwynedd World Heritage Site. The next two nights are spent in Caernarfon.
Day 10 – Snowdonia National Park . Our first stop is the Ogwen Step, where a Roman Bridge can be seen hidden right under the main road bridge. Here tuff beds of volcanic ash can be seen and in one bed there are many fossil brachiopods that were killed by a volcanic eruption. We then take a walk into Cwm Idwal, a spectacular glaciated valley where we will see Darwin's Boulders; this is where he first realized Britain must have once been glaciated. We then pass the base of Wales's highest mountain, Snowdon, which is made up of Ordovician volcanic rock before reaching the village of Llanberis. Here we visit Dolbadarn Castle where, as well as enjoying the castle, we get great views of the Cambrian Slate quarries which are short-listed to become Wales's next World Heritage Site. Also in Llanberis, if the weather is good, we will take a train ride to the Roof of Wales - the Summit of Mount Snowdon. At 1,085m high this has to have the best views in Wales. The mountain is the remains of an Ordovician Volcano and glacial features are everywhere to be seen. If the weather is poor we will alternatively visit the National Slate Museum of Wales. We then return to Caenarfon to spend a second night.
Day 11 - GeoMon Geopark and the Great Orme Prehistoric Mine. We spend the first half of the day in the GeoMon Geopark on the island of Anglesey. Our first stop is Cemaes Bay where we can see one of Britain's very few Miocenedeposits. We also see very much older Precambrain melange rocks. We then visit Parys Mountain. Here, smokers rising from under the seabed disseminated copper and other metals into the Silurian-age mudstones on the sea floor. During the 19th century, Parys Mountain was the largest copper producer in the world. Mining has taken place sporadically from Bronze Age to present times. Our next stop is at Llanfairpwllgwyngyllgogerychwyrndrobwyllllantysiliogogogoch, the longest place name in the world or Llanfair P.G. for short! Here we can see Precambrian blueschist rocks that were formed in a subduction zone. This is followed by a visit to the railway station and the famous place name signs. We then cross back to the mainland of Wales and driving through the World Heritage walled town of Conwy (part of Castles and Town Walls of King Edward in Gwynedd World Heritage Site) to reach the Great Orme prehistoric Copper Mine. Here we can descend into the mine shafts that were carved out by Bronze Age workers thousands of years ago. After visiting the Copper Mine we cross the border back into England, spending the final night of our tour in the historic and Roman City of Chester.
Day 12- The tour ends in the City of Chester. From Chester it is easy to return to London by direct train (only 2 hours). We can help you buy your tickets. Before leaving Chester you may want to visit the Cathedral, the medieval 'Rows' (continuous half-timbered galleries, reached by steps, which form a second row of shops above those at street level) and the Roman amphitheatre.
INCLUDED
Geological guiding from James Cresswell
Transportation from destination to destination
Hotel accommodation
Breakfast in the hotels
Entrance to all attractions except those visited on free time
NOT INCLUDED
Flights
Lunch and dinner
Transportation from Chester back to London
Geological Period and Site Visited
Quaternary: Gough Cave, Cheddar Gorge
Neogene: Cemaes Bay, Anglesey
Paleogene: Wareham, Dorset
Cretaceous: Chalk in Lulworth Cove
Jurassic: Lyme Regis, and Lavernock Point
Triassic: Dinosaur tracks on the Glamorgan Heritage Coast
Permian: Dawlish, fossilzed desert dunes
Carboniferous: Big Pit Coal Mine
Devonian: The Brecon Beacons
Silurian: Llandovery, Ludlow & Wenlock
Ordovician: Snowdon volcano, and Gilwern Hill trilobites
Cambrian: Dinorwic Slate Quarry
Precambrian: Stanner Rocks
Amazingly Britain is so geodiverse that we see rocks from every Geological Time Period!
carbon generated by this tour
= 0.353 Tonnes of C02
At no additional cost to you, GeoWorld Travel will offset the Carbon created by this tour using carbon offsetting company Carbon Fo

otprint

. A certificate for this offset will be supplied to you after the tour is completed.
It is your responsibility to book your travel to and from the start and finish of the tour, so if you would like to also carbon offset this cost please use our carbon offset calculator
here.
Trip diaries, photo galleries and reviews of previous trips
This trip is new for 2021, there was no trip in 2020 due to COVID-19. It combines our previous England: Jurassic Coast and Cornish Tin Mines trip and our Wales: Castles and Dragons trip. Trip Diaries, Photo Galleries and Reviews of these two trips are shown below.
ENGLAND - JURASSIC COAST AND CORNISH TIN MINES
(2019)
"I joined the tour going through southwest England because of my novice interest in fossils and the Lyme Regis area. Boy did I learn alot! Our guide James geared trip locations and background information to fit into our existing framework of knowledge and physical capabilities. Exciting moments; climbing Haytor partway in blustery weather, hiking down into coves where the ocean swash rumbled the cobble shore, seeing ancient sites of rock lined avenues, following sauropod tracks across a quarry, experiencing life of a tin miner going to work, and touching rocks that were part of the Earth's mantle before being pushed up and over a continental plate. Because it is such a small group, we didn't experience lost time in gathering folks, and we were easily able to ask James questions, including "why are the roads so narrow", and "how often do you see hedgehogs?" What I will always remember is the absolutely beautiful land of southwest England, and the graciousness of all the people we met. James and Abby were extremely helpful in arranging my early departure to catch a boat; they were a pleasure to work with. I hope to join GeoWorld Travel for my trip to Iceland in 2020, since this year's is full. Don't delay, sign up early."
Margaret R., Texas, USA
Review was posted to

TripAdvisor, May 2019
ENGLAND - JURASSIC COAST AND CORNISH TIN MINES (2019)
"This trip was a great pleasure to go on! James is a fun and knowledgeable guide, providing not only an interesting geological perspective, but a lot of local flavor as well. Geology is combined with stunning scenery, as well as a variety of activities such as fossiling, visiting caves, museums, and neolithic sites. We visited charming coastal towns, staying in some lovely bed and breakfasts. We enjoyed eating in the local pubs and tea rooms as well. This was our first trip to the UK. We found it to be a unique and personalized experience and a great value for the price."
Nancy C., Virginia, USA
Review was posted to

TripAdvisor, May 2019
ENGLAND - JURASSIC COAST AND CORNISH TIN MINES (2017)
"Hi James. Barbara and I wish you at great new year. We want to thank you for a most interesting trip this spring to the English South coast. Interesting sites, good company and a lot of geology. Even the weather was nice! Best wishes"
Torsten H.,

Sønderborg,

Denmark
Review was posted to

Facebook, December 2017
ENGLAND - JURASSIC COAST AND CORNISH TIN MINES (2017)
"We got a good tour of the South West in Somerset, Devon and Cornwall and tried our luck as fossil hunters in Lyme Regis. James is a jovial and knowledgeable guide and he selects each destination for its geological relevance- which usually coincides with beautiful and unique landscapes. With just 4 of us on the tour, we got to have some interesting conversations and get to know each other. We found ourselves very tired at the end of each day, having seen several interesting places. Most of the places we visited were outdoors and we counted ourselves lucky that it didn't rain for the entire week of the tour.
Recommended for anyone who hasn't seen the South West or who has once wondered why landscapes look the way they do. If you have a particular interest in geology and/or fossils, this trip is made for you. Bring good shoes and prepare for the English weather!"
Barbara H., Antibes, France
Review was posted to

TripAdvisor, April2017
WALES - CASTLES AND DRAGONS (2013)
"A Tour of Wales in May 2013, with resident geoscientist James Cresswell, in our opinion rated 5 stars in all categories! It was a well-chosen blend of geology, history, culture, and scenery impossibly packed into seven days. Travel for our small group was by car on sealed roads and entirely satisfactory; accommodation was usually in mid-range hotels but included a superb B&B in Brecon Beacons National Park (Tara, Felindre). We could not have had a better leader: warm, cheerful, knowledgeable, attentive to our every wants and needs. Thank you, James! The range of geologic sights was amazing; surely something for everyone. Paleontology was the lead-off subject. On arrival evening we were picking up ammonites on the beach near our hotel, and the next day following a Mesozoic dinosaur trackway; in subsequent days searching out graptolites and trilobites (Wales hosts the Type Sections for the Cambrian, Ordovician, and Silurian ). A focus on economic geology? Visits to once world-famous but now mostly inactive coal, slate, gold, lead-silver mines and related industrial facilities (in the 19th C. Wales was unsurpassed in coal production). Structural geology and tectonics? Multi-stage structures splendidly exposed in sea cliffs; extraordinary coastal displays of melange; glauconite-rich blue schists from deep in the crust or upper mantle; pillow basalts; silicic ash-flow tuffs; and more. It was amazing to contemplate that we could walk terraine once ripped from what is now Newfoundland during the sundering of Gondwana! Interspersed with all this geological variety are relics of human activity dating from earliest times on: dimension stone destined for Stonehenge; steles; ancient crypts; even a rare "cranog" ; walls, forts, castles, priories, etc., testimony to vicissitudes of Celtic, Anglo-Saxon, and Norman preeminence and strife. We found it impossible to absorb and digest everything on our plate on this all-too-brief tour but we expect it to provide sustenance for years to come! Hats off to GeoWorld!"
Dick B., California, USA
Review submitted via email, July 2013
WALES - CASTLES AND DRAGONS (2013)
"Our holiday was a fantastic tour-de-force through the geology, scenery, history and culture of Wales visiting 2 Geoparks, 3 National Parks and 2 World Heritage Sites - all in one week!"
Allen F., Shetland Islands, UK. 25 May 2013
Review was posted to

Freeindex, May 2013