Ophiolite
Ophiolites are oceanic crust and mantle that have been thrust up on to the land where they can now be studyied and examined.
The following trips feature site with ophiolitic rocks:
ENGLAND
Jurassic Coast and Cornish Tin Mines - visits Kynance Cove where serpentized mantle rocks can be seen.
OMAN
Ocean Crust and Mountains of Mantles - Oman is the best place in the world to see an ophiolite. Many of the locations on this trip are dedicated to studying and understanding this ophiolite.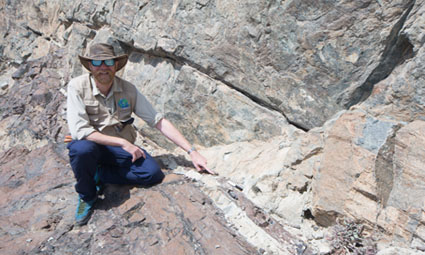 James Cresswell on the Moho in Oman