About GeoWorld Travel
GeoWorld Travel specialises in leading geotourism geology tours and placing people on polar expedition cruises through our PolarWorld Travel website. The company was founded in November 2012 by James Cresswell, and is based in the Brecon Beacons National Park, in Wales, United Kingdom, where we also offer day tours, through our Brecon Beacons Tours website.
James Cresswell - Director and guide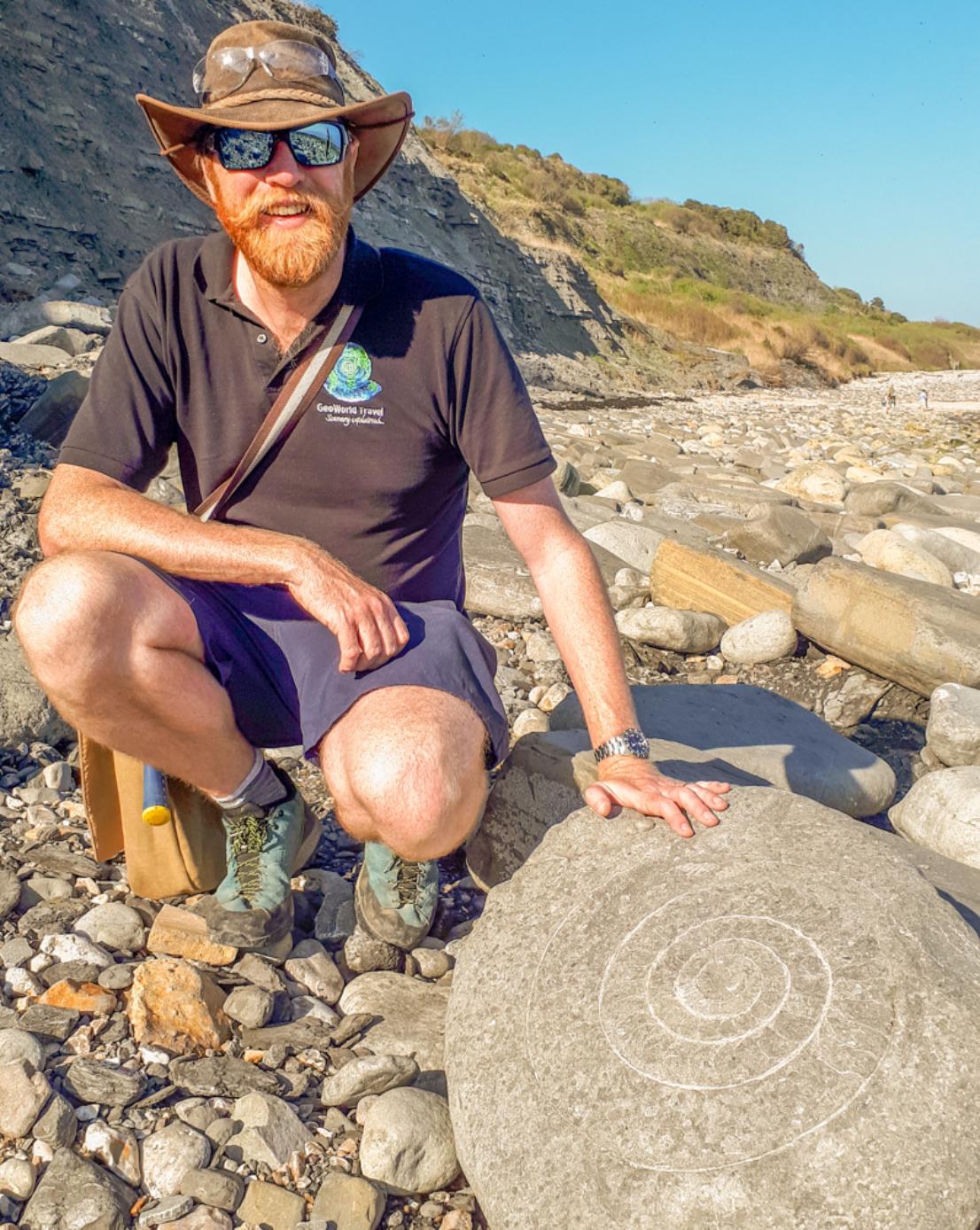 James at Lyme Regis, Jurassic Coast WHS, England
James is the director and founder of GeoWorld Travel, and personally guides most of GeoWorld Travel's trips. He is a geologist gaining his degree in Geology from the University of Bristol, and his Masters in Oceanography from the University of Southampton. Before setting up GeoWorld Travel, James travelled to around 100 different countries and worked as the geologist guide aboard expedition cruise ships. Countries and areas he guided in, before establishing GeoWorld Travel, include: Antarctica, Svalbard, Canada (Arctic and Rockies) Greenland, Russian Arctic & Geographical North Pole, Australia, Indonesia, Papua New Guinea, Kenya, Botswana, Mozambique, Madagascar, Seychelles, India, Sri Lanka, Maldives, Caribbean, the South Pacific, St Helena and Tristan da Cunha. James' passion for communicating geosciences began when he started his career working in the television documentary industry. He was the researcher on a Discovery Channel geological series, and was part of the BBC's 'Blue Planet' series.
To read more about James and to see the selection of talks he can give, please check out his Public Speaking, Publications & Photography website, or connect with him on LinkedIn
Abby Cresswell - FINANCE and Hotel Booking Manager and Archaeologist Guide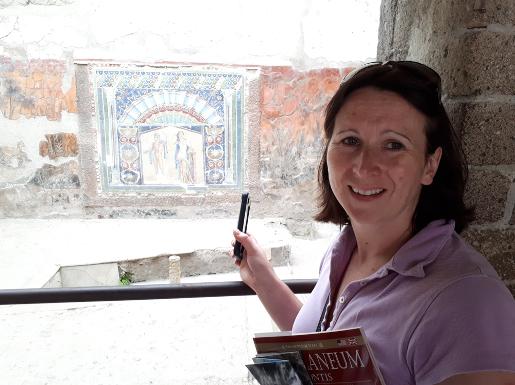 Abby at Herculaneum, Italy
Abby is both James's wife and a qualified archaeologist. At GeoWorld Travel she manages the finances and hotel bookings. In addition to her work at GeoWorld Travel, Abby works as an IT Consultant in the Heritage Sector. Abby gained a 1st in her MA (Hons) degree in Medieval History & Archaeology at the University of St Andrews, and she gained a distinction in her Masters in Landscape Archeology at the University of Bristol. From time to time she accompanies James on tours or day trips adding an extra dimension with archaeological guiding.
Nicole Gr

ü

nert - Namibia guide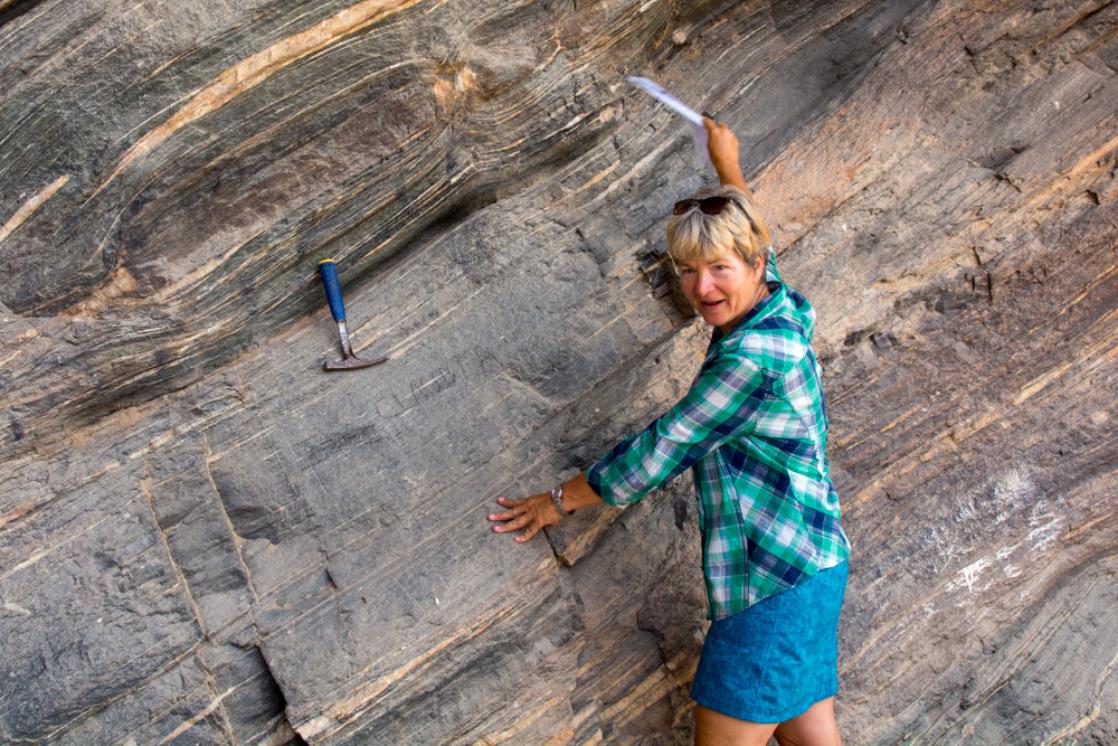 Nicole at Tsaobis, Namibia
Nicole leads our Namibia trips. She holds a Masters degree in Geology from the Technical University in Aachen, Germany. She immigrated to Namibia in 1994 and since then has been leading geological tours and safaris. She is the author of the books: Namibia – Fascination of Geology; and Namibia – Geological Wonderland. Nicole is a registered Namibian tour guide and travel agent.
Youssef Nomada - Driver in Morocco
Youssef in the Erg Chebbi Dunes, Morocco
Youssef is Moroccan and lives in Ouzarzate. He is originally from the fossil rich area around Merzouga where we spend much of our time on the tour. Youssef and his brother run their own tourism business in Morocco, and provide our transportation via Toyota Landcruisers . They also provide our picnic lunches and cultural information about Morocco.
Polar Expedition Cruise Geologist Guides
The MV Ortelius in the Ross Sea, Antarctica
GeoWorld Travel sells places to join expedition cruises in Antarctica and the Arctic. These cruises will have an experienced geologist guide aboard as well as wildlife and historian guides. For 10 years GeoWorld Travel's Director James Cresswell used to work as a geologist guide on these expeditions. James no longer guides these trips, and the geology guiding is provided by the onboard team, however GeoWorld Travel can tell you everything you need to know about these trips and can book you on the expedition that best suits your needs.
GeoWorld Travel Ltd is registered in England and Wales
Company number:
8308491
Registered office address:
GeoWorld Travel Ltd
34 The Watton
BRECON
Powys
LD3 7EF
UNITED KINGDOM
If you use this address for correspondence, we will receive it but there may be a delay, so we would prefer you to use our correspondenceaddress address below.