South Georgia
FALKLAND ISLANDS, SOUTH GEORGIA & ANTARCTICA
Once every four years James Cresswell will take an exclusive GeoWorld Travel group, onboard a passenger expedition cruise ship to South Georgia
Next trip: January or February 2026 (Dates TBC)
*Minimum GeoWorld Travel group size is 6*
18 Nights/19 Days
Price TBC
South Georgia was once a piece of land that connected the Antarctic Peninsula with South America, but it got ripped away with the opening of the Drake Passage which isolated Antarctica from the rest of the world. The island is geologically quite young (all rocks younger than 200 ma) with most of it being sedimentary from turbidites. There are impressive folds to be seen and very dramatic glaciers.
The Falkland Islands have a very interesting geological history. The rock, which is virtually all sedimentary, was formed as part of the continent of Africa, but then became wrenched off to join South America in the process that created the South Atlantic. It also has amazing wildlife with some of the world's most important albatross colonies.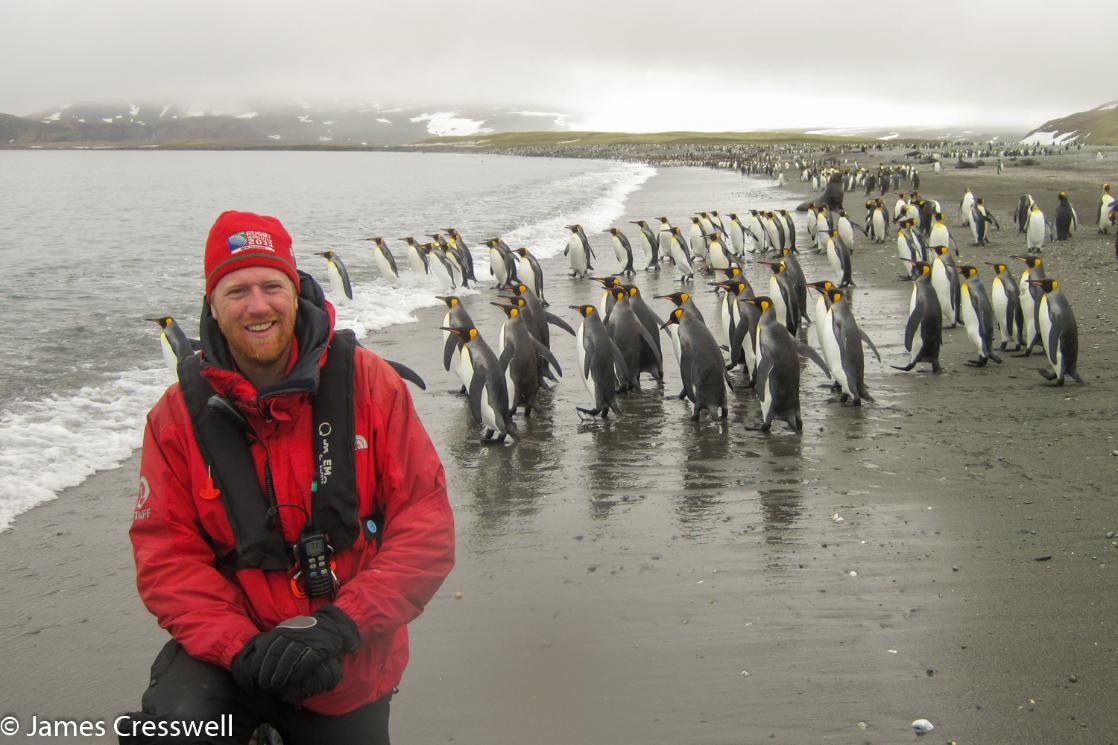 James Cresswell with King Penguins at Salisbury Plain, South Georgia
James Cresswell (Director of GeoWorld Travel) will lead the trip
James has guided on this expedition several times when he was previously employed as the ship's geologist & expedition guide. On this voyage he will not be working for the expedition cruise company, he will instead be working for you, joining the ship as the group leader for an exclusive GeoWorld Travel group . The ship will have its own geological guide aboard, but James will provided the GeoWorld Travel group additional geological talks, discussions and guiding, and will be able to give you much greater attention than the ship's own guide who has many additional onboard responsibilities.
If you do not want to wait to join a trip led by James or prefer a different itinerary - no problem! We also run PolarWorld Travel, an expedition cruise consultancy & booking agent and weare happy to help you choose the expedition that is right for you.